The twentieth edition of the international multi-sport event involving the  53 Commonwealth nations, the CWG, has finally begun. The grand game shall witness around 6,500 athletes participating in  261 events in as many as 17 distinct sports. The Commonwealth games were founded by Melville Robinson, who organised this fourth largest sporting mega event for the first time in 1930 as the 'British Empire Games' in Canada.
Since then its structure and organisation has undergone some significant changes. The games are organised by the Commonwealth Games Federation, which also selects the host city. This time the capital city of Scotland, Glasgow is hosting the event. The other cities involved in the bid for hosting the event were Abuja, the Nigerian capital and Halifax in Canada. Halifax however, later withdrew its bid in 2007.
The Commonwealth nations send their 71 teams to participate in the games, as the dependent territories compete under their own flag at the event. Though this year 'The Gambia' will not participate in the games, reducing the number to 70 teams.
'People, Place, Passion' is the motto, whereas Clyde is the official mascot of the 2014 Games.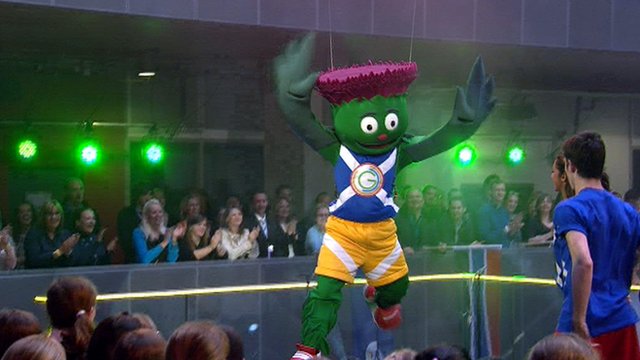 This year the opening ceremony of CWG  featured the only Commonwealth-wide fundraiser for children, in collaboration with the UNICEF. The grand event at the Celtic Park showcased some memorable glimpses of Susan Boyle and Rod Stewart's performance, the ceremony was directed by David Zolkwer.
The ceremony was attended by England Prime Minister David Cameron, the Duke of Edinburgh, Prince Imran, and many other dignitaries. Sachin Tendulkar represented UNICEF at the ceremony. Alex Salmond led a minute's silence for the victims of the MH17 disaster, which claimed 298 lives.
At last the baton was carried on by the young girl form UNICEF to six time Olympic champion Sir Chris Hoy, and eventually it reached to the Queen. The Queen read her message and then declared the 20th Commonwealth Games open.
Image source: The Guardian
Rishabh Sharma