Shri Ram College of Commerce has released its merit list for admissions in the 2014-2017 session. The college is one of the first in the University to come out with the list.
For BCom Hons, the highest percentage is for Category D at 99.25%. The category is for students who have studied just one paper out of Business Studies, Accountancy, mathematics and Economics. For students who have studies all the four subjects, the cut off is 97.25% for the General Category.
The lowest for BCom Hons is for ST A Category with 89%. The College has also attached the list of candidates who can formalize their admission into three year course of BCom Hons.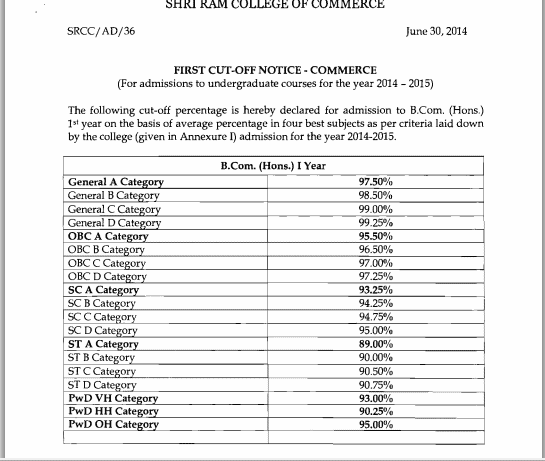 Usually the course with the highest cut offs, Economics is not the one with the highest cut off this time.  Economics stream has a 98.25% cut off for Commerce Stream, 97.25% for both Arts and Science streams. For OBC, the cut offs begin at 96.5% .
The candidates who meet the cut offs can complete the admission formalities from July 1, 2014- July 3, 2014 between 9:00 am to 1:00 pm.