Thought Facebook lost to WhatsApp & Viber? Well think again! The social networking giant, is still aspiring to make a mark in the world of instant messaging (guess buying your peers ain't enough : P).
Facebook recently rolled out updates for its Messenger app for Android and iOS users & is simultaneously disabling the inbuilt chat feature present in the Facebook app  . For Android, the Facebook Messenger app has been updated to version 4.0, and for iOS to version 4.1.
Can this be a game changer? Let's find out!
The Android update introduces features seen in the Facebook Messenger 4.0 for iOS released in end of March. This includes group messaging, as well as photo & message forwarding. The interface has been redesigned, and provides a great user experience. Also, much like WhatsApp, users can now pin contact shortcuts to their home screens – a feature also available in the new iOS app. You create a shortcut icon of any conversation with any of your friends and   the shortcut will open that particular chat window directly.
One feature that provides Facebook an edge over WhatsApp is the app's ability to make free calls (via Wifi or mobile data) in all countries! Similar to Viber & Skype, users can call active friends without incurring any carrier charges. Had Facebook introduced video calls, it would have overpowered Apple's FaceTime as well, hands down!
Facebook Messenger showcases enough features to blast the competition. For instance, the Chat Heads feature alerts you when you have a new message: while you are using some other app,  a bubble with the sender's face pops up, and you can access the chat by tapping the face.  There's a good collection of free sticker and smileys available. You can display your exact location to friends when you send a specific message or hide your location. Facebook Messenger has a Record Voice feature, which lets you record audio and then send it, similar to WhatsApp.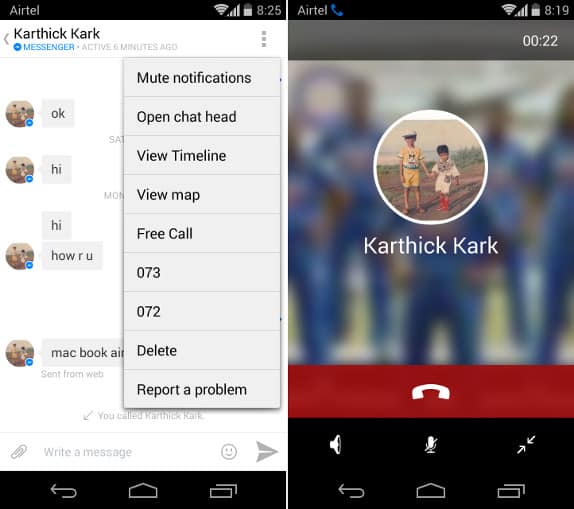 Messenger allows you to group chat with up to 250 people at once (unlike Viber's 40 and WhatsApp's 30 group participants).You can also text those in your contacts, whom you aren't friends with on Facebook!
Apart from the absence of Video Calling, another letdown is the apps inability to send videos, contacts, etc! Also, in a group chat, the option to leave the group is – missing! The app doesn't allow you to log out as well (that's creepy!).  Having a separate application for chatting is also very strange. Why can't they integrate the same in the existing Facebook app? In fact by removing the messaging feature from the Facebook app,  Messenger is more of  a compulsion!
Barring these minor flaws the app is very efficient & looks refreshing. It offers all the features touted by the peers and even more!
The App / Update is available for Free on Google PlayStore & Apple AppStore .
Sidhant Malhotra