<![CDATA[University of Delhi has been immensely promoting drama for the past one decade. With various aspects of theatre like inter university competitions, Delhi University theatre festivals, similar events in annual college fests and ECA admissions through dramatics, theatre societies of respective colleges have revolutionized the meaning of theatre. But the two dimensions of theatre, nukkad (street drama) and rangmanch (stage drama) have  been confined merely to perform for the competitive motives and have been restricted to perform to DU circuit audiences. With this thought of breaking the mainstream theatre culture, widening the ambit of theatre from the narrow DU restricted one, and opening the avenues for ex DU students, a theatre group called Khanabadosh was founded.
About Khanabadosh
Founded by DU alumnus Sidhaant Sharma (Maharaja Agarsen College) on August 31 2013,
Khanabadosh
 caters to the general public with a motive of creating awareness and instigating a thought about the right and wrong. The group that initially did theatre with all the ex-students of the university has now expanded their artist base to others as well. In working since October,
Khanabadosh
has 24 active members and 17 performances to its credit till date. 
Khanabadosh
is presently just a street theatre group.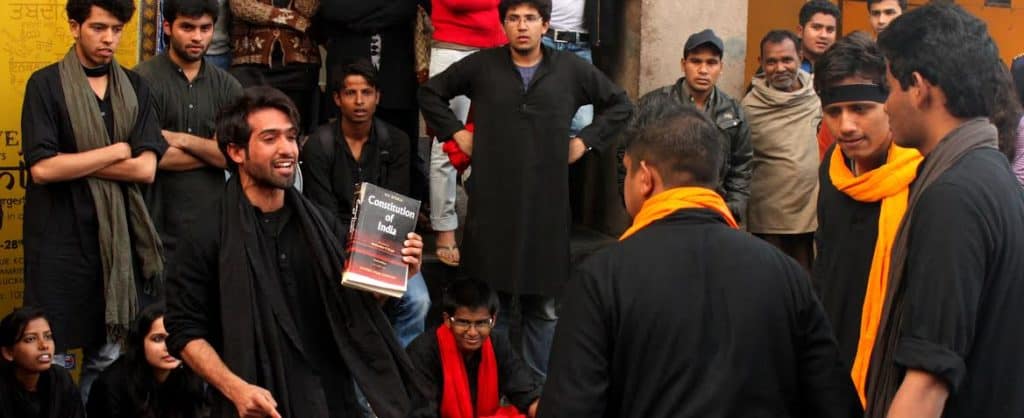 Vision
In words of the director, "
Khanabadosh
doesn't aim to manufacture actors. It doesn't even aim to create professionals. The vision is to create those human beings who can understand the matters of the society. Those who can notice what is happening around them, observe, analyse the problem and then play or act.
Yahan
motive
insaan banana hai
." Sidhaant adds, "I wish to create such a team that has the freedom of expression with this clear vision in mind,never deviating from it." The team has different people from various backgrounds. They have different perceptions and few members within the team have mutual admirations. So the most challenging task is to maintain harmony in the team where everyone has the urge to create a difference.
Mission
With this vision in mind,
Khanabadosh
vows never to participate in competitions and do theatre only for its target audience. They have created a mission to let the audience introspect about what is happening around. The plays of the group are a satire on the society and its systems or to put it more precisely, a slap on the face. Their theatre is different from the fancy and organized theatre at the university. '
Khanabadosh
' (the word which means 'nomads') undertakes unorganized form of theatre through the dramatic art. According to the members of the group, today's common man doesn't understand fancy theatre which includes extensive element of music and poetry in
nukkad.
The group, therefore gets to the street with a less complex plan of action for the play and a
dhafli
and plans to cover each part of the capital city under this theatrical cause.
Members and Performances
Khanabadosh
has artists from  Maharaja Agarsen College,SGTB Khalsa, Kamala Nehru College, Gargi, PGDAV and DCAC. It also has other members with no acting experience or background who are provided with required training.
Khanabadosh
has one production to its credit after completing six months. Their
nukkad natak
DEMO-CRAZY is a play based on the political truths and is a satire on the political system. It highlights how common man of the country is left with no option in this vicious circle of politics and how people who don't vote, have no right to question. The team has performed for the general audience at metro stations, Shri Ram Centre (Mandi House), Connaught Place, Shaheed Bhagat Singh Park, Mayur Vihar, Ashok Vihar, Patparganj, Tri Nagar, GB Road, Dilli Hatt, IIT Delhi and TDI Mall as part of Manthan'14. Their viewers range from market going people to the vegetable or fruit vendors and from students to people with political backgrounds. "In all performances, it is amazing to see how people could relate to the play and gave responses. For us, it is still a learning process."  said a team member. The team  travels to different places allover the capital city, and arranges for  certain formal permissions required to perform in respective areas.
Future Plan of Action
Khanabadosh
, the team that is currently on an election break plans to resume the series of performances soon. They also plan to get the group officially registered with the government and expand itself to stage theatre as well. The new season will witness a new play by
Khanabadosh
on some other social topic. The team apart from Delhi will also move out of the city for both revolution and change. As one of the members of the team say, "
Khanabadosh
wishes to grow from a baby to kid and then to an adult." [gallery ids="22658,22656"]
Appeal to the University Theatre Circuit
During the conversation, Sidhaant who was also a volunteer for General Elections 2014 told DU Beat how the voters of the country portrayed dilemma on their face while voting. "This is all a shitty mess
, jahan janta pareshaan hai
. We are happy in doing our bit by taking our political play out for the public." Team Khanabadosh appeals to all the teams of the university to bring their brand of street theatre actually out to streets and not limit it only to the university and competitions. The group feels that the meaning of '
nukkad
' is lost otherwise. For more updates about the team and their performances visit: 
Khanabadosh Facebook Page
]]>