The two-day cultural festival of College of Vocational Studies (CVS) concluded amidst drizzles on the evening of 28th March with Hardy Sandhu performing on a makeshift platform as showers restricted the use of electrical equipment on the main stage.
The first day of the festival began with an English debate event. Teams debated the topic, 'The result of the coming elections rests in the hands of the youth'. Arvind and Anuj won the 1st and the 2nd position respectively. Karil was awarded the Best Interjector prize. All winning participants were from the host team. The debate was followed by rangoli and poster-making competitions held in classrooms.
After a short delay, The Thespian, the street-play and most awaited event of the day, commenced at 1:00 pm. It was organised by Dramanomics – the Dramatics society of CVS. The event saw participation of 7 colleges with each college putting on display a social issue of the country. Shivaji College with their play Bas Samajhne ki Baat hai depicted the ill-treatment and abandonment of the old in our society, was adjudged the best play of the evening. Gargi College's Joota and Sri Guru Gobind Singh College of Commerce's Chidiya ki Kahaani were the 2nd and 3rd prize winners respectively.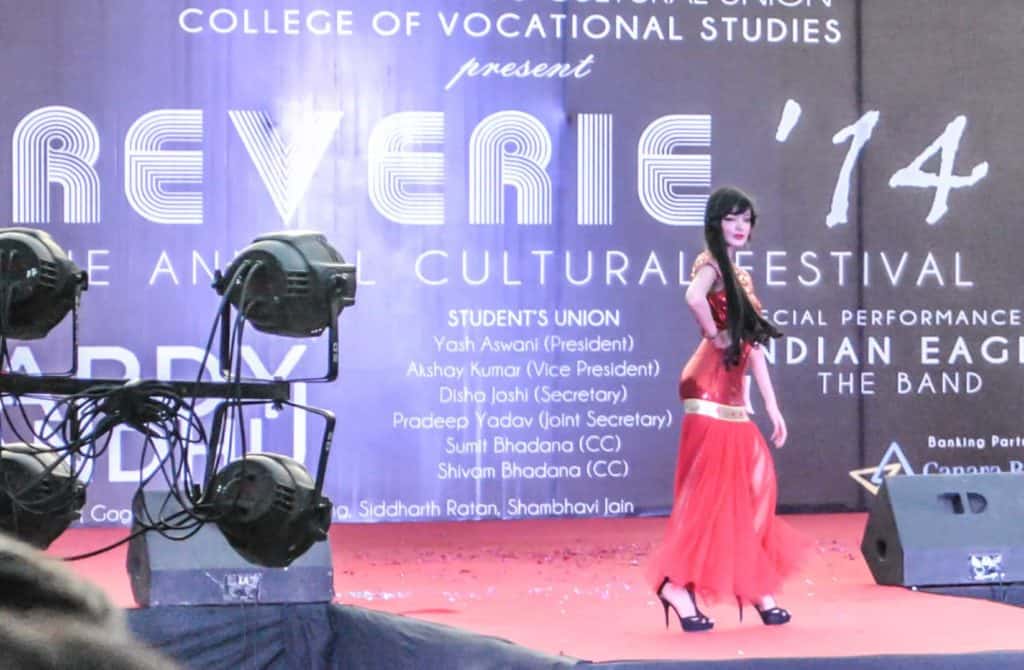 Manthan, the fashion society of CVS organised a fashion competition which was won by the team from Maitreyi College. The award for best costume went to Tarini Singh and best model went to Samiksha Jain, both from Lady Irwin College, whose team was adorning the Cleopatra look.
The second day of the fest began with a Hindi debate on the topic, 'Bharat se bhrashtachar hatana asambhav hain'. Soon after the debate, the main stage was taken over by rock bands for the Battle of Bands, which was won by Kazaryth.
The weather had become overcast as the musicians of CVS played and growled to the tunes of Metallica and AC/DC, entertaining the crowd that was waiting for Hardy Sandhu's performance, but as the evening progressed, it started raining and Hardy's performance was delayed. Finally, the rain subsided and Hardy performed on a makeshift platform near the Student's Desk instead of the main stage as it was wet and could not accommodate electrical equipment.