The western dance competition at Mecca 2014 began with Hindu College's western dance society Aarambh performing on the latest bollywood numbers and building up the energy in the crowd. Hindu's performance was followed by Jesus and Mary College's dance act – one that garnered lots of hoots from the crowd as they danced on songs like 'Pyaar tenu karde gabru', 'Tunal tunak tun' and 'Saat samundar paar'.
Indraprastha College for Women kept the girl's college swag going with their performance right after JMC. Hansraj College was the first to break this monopoly with their performance which stood out with their patriotic twist as they built the tiranga with pan covers and a cycle tyre. In fact, this moment turned out to be the best moment for Mr. Sunil Chopra, Director of Indian Fiesta Latina and the judge of the show as he told DU Beat, "I absolutely loved the way Hansraj brought together the tricolours of our flag, it was a very deep and emotional moment for me and my partner Shalu". Sri Venkateswara College came in next after Hansraj and displayed their dancing talents to the enthusiastic audience. Other colleges that performed were Guru Gobind Singh College of Commerce, Daulat Ram College, North Indian Engineering College, Kamala Nehru and Satyawati. After all the performances Hindu performed again which was a non-competitive performance and brought the Western Dance competition to an end.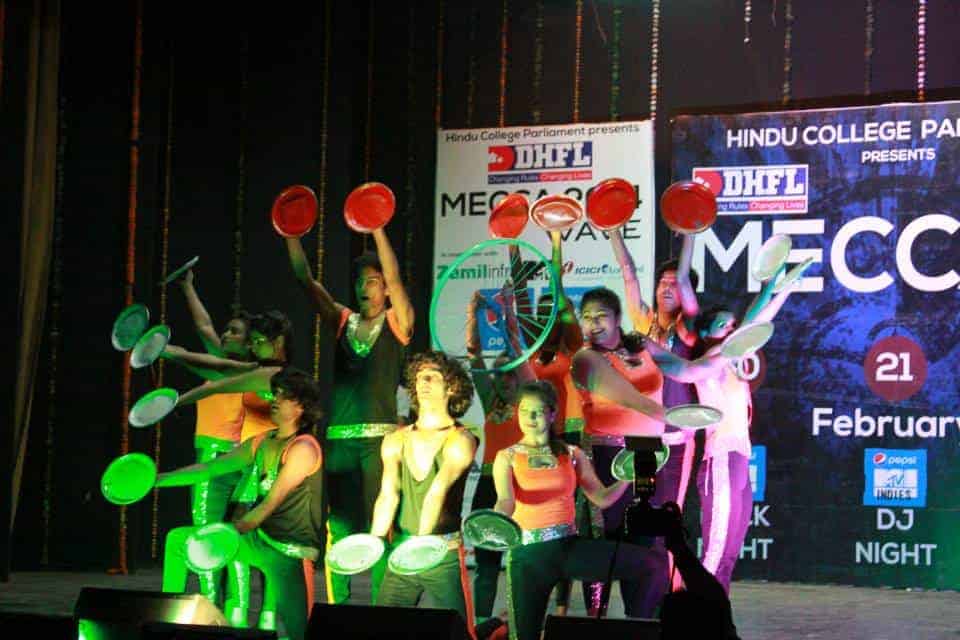 Mr. Sunil Chopra and Shalu Chopra, the judges for the event took the stage after that to share their opinion on the dance performances and to talk about the upcoming Indian Fiesta Latina which is going to be held from 11-13 April at The Leela, Ambience, Gurgaon and show the audience a 176 seconds clip on what IFL really is.
The result for the competition were announced soon after with Hansraj taking the third place. Sri Venkateswara came second while Jesus and Mary College grabbed the first place. With the same, Mudra – The Western Dance society of JMC also won a chance to perform at IFL 2014.
"We loved the energy the students put in, in their performances and the way they brought a professional touch with such amazing costumes and of course the way they never stopped smiling and enjoying their performance." said Mr. Sunil Chopra.
Featured image: Western Dance Society of I.P. College for Women