Delhi University Teacher's Association held its annual meeting on the 31st January outside the VC's office to make new resolutions and amendments and protest against the VC who has just been honoured with Padma Shri award for 'his excellent work'. The meeting, although arranged on a working day, saw a considerable footfall of around hundred teachers – all strived to bring a change in the functioning of the university.
The meeting got delayed by one hour because of lack of proper arrangement for the same. Apparently the VC did not allow mikes and chairs inside the gate of the office area, there were just some sheets spread on the concrete floor for teachers to sit so they had to take their meeting outside the gate and hire chairs and mike on their own. "This was supposed to be just an annual meeting which every association has. Every university has this type of meetings which takes place inside an auditorium or a closed space but the VC won't even allow us a room where we can sit and discuss!" says one of the teacher present there. "He has given instruction to principals of all colleges to refuse us a place to hold this meeting. This is nothing but dictatorship! And this man got a Padma Shri!" adds another. The teachers agreed unanimously that by awarding the VC a Padma Shri, the government that talks of democracy, has given an open support to dictatorship.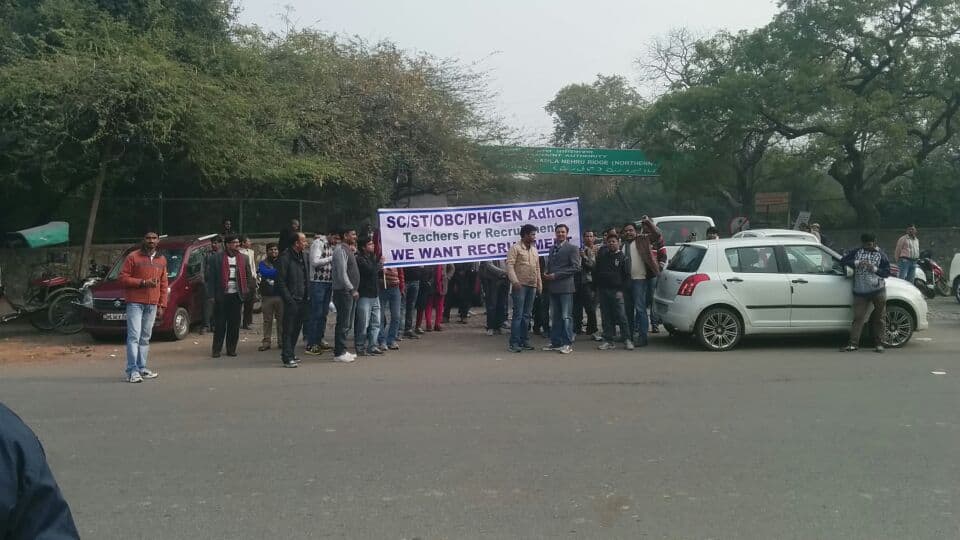 The meeting was interrupted for a while by a group of teachers who took out a protest march in the same area to make the process of recruitment of ad-hoc teachers fair. There were around a fifty security personnel on guard on the orders of the VC who were instructed to rush in in case any violence took place. Apart from few angry exchanges the meeting took place peacefully. Issues like Padma Shri award to the VC, his arbitrary actions like removal of chairs and other facilities to the security guard and closure of Panditji's tea stall which has been there for generations, delay and denial of promotions to teachers who went against him, hasty implementation of FYUP, suspension of teachers and misuse of Antardhvani were some of the issues which were dealt with in the meeting.
DUTA also invoked the students to join them in their struggle against the FYUP by citing how bad it is for their future.