Recognise her? She's the assistant referee, Sian Massey running along the sidelines of your favourite football club's match on weekends.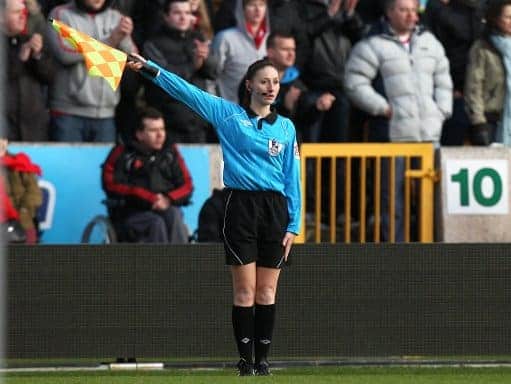 Just like her, Indian women referees are also breaking through the ice in the national football circuit. Recently, Chennai girls Ruba Devi & Basanti and Bengal's Kanika Burman & Monica Jana qualified for Class II national refereeing. These four girls aim to follow the much celebrated Goan girls Maria Robello, 42, and Uvena Fernandes, 32, who have the honour of being included in the FIFA's list of women referees.
Rebello, who was also a former Indian team captain, now referees for the Goan pro-league. For a woman referee, the biggest challenge is to control the male players and keep the tempers from soaring too high. In an interview to the Indo-Asian News Service (IANS), she said, "Things can get a bit nasty in Goa where football is a way of life. But I feel women have the ability to keep things under control. I have been verbally abused by the players & fans and I also give it back to them. "(Talk about a real life in-your-face Kate Beckett, eh?)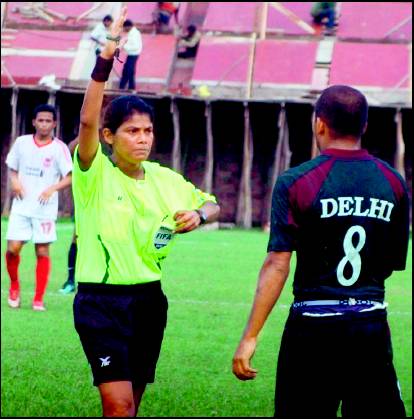 Like Rebello, fellow Goan, Uvena Fernandes, who is an officer with the Indian Air Force (IAF), also represented India before she started refereeing in 2003.
The newly qualified Burman's moment of test came when she refereed a highly controversial match between East Bengal and Railway FC which saw her being verbally attacked by one of the players. However, she handled it well with her no-nonsense style and came through with flying colours. But success for Burman comes with a cost. In 2013, she lost a month's salary when she took leave from her other job to referee for the U-19 Women's nationals. The underpaying nature of the job of a referee in India also does not help her case.
However, for AIFF (All India Football Federation) priority remains to promote women's refereeing. The man behind the rise of women referees is Col (Retd.) Goutam Kar, the head of the refereeing department.
"We realized that one girl means one family. And since we don't have organized women football, we encouraged them to take up refereeing so that they have a good future. First we started scouting and then in 2012 we got a good response in the women's only refereeing course that was attended by 30-40 girls", Kar said to IANS.
Kar believes that if these four girls (who have just qualified) make it big, then it can surely inspire the next generation of women referees.
 imagecourtesy: caughtoffside.com, epaper.timesofindia.com
Tushar Diwan