After conferences with various VCs and Directors of numerous Universities in 2013, the Hon' able President of India, Sh. Pranab Mukherjee interacted with the youth of nation on 7th January, via a video conference. The agenda of the meet was to extend New Year greetings and to highlight the importance of higher education in shaping the future of individuals and the country. The President delivered his message live across numerous centres of NIT Kurukshetra, IIT Bhubaneswar, NIT Rourkela, IIT Ropar, Punjab University and Delhi University to name a few with technical support from National Informatics Centre.
Over 1500 students, teachers and Principals of various DU colleges had gathered in the Convention Hall of Vice Chancellor's Lodge, North Campus , as the summon began at 12 noon sharp. The conference began with the Dean of NIT Kurukshetra, welcoming the President, VCs, Directors staff and students to the video conference.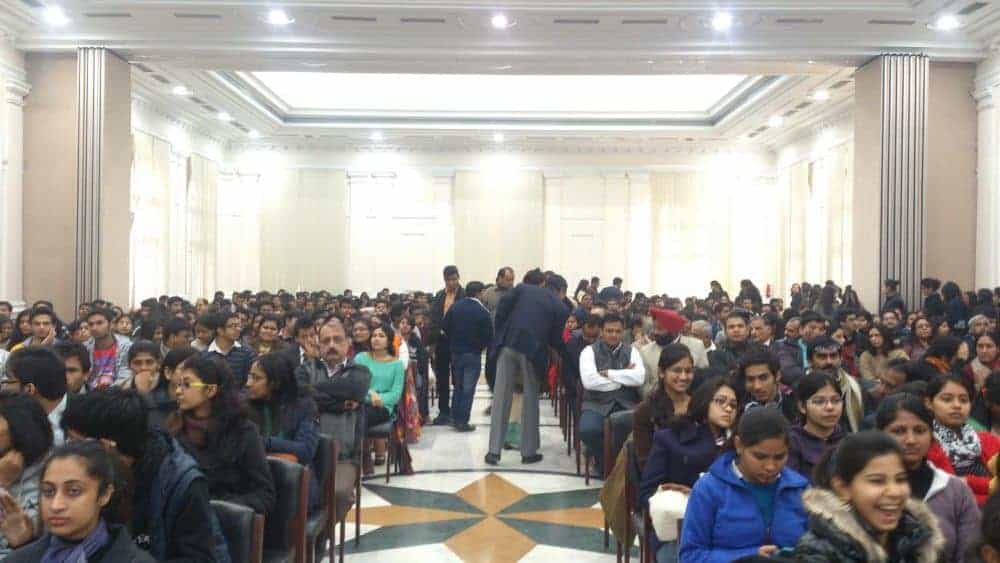 While the President opened by extending his best wishes for the New Year, he went on and enumerated the importance of education and its direct relation with development of citizens. He also brought to notice that none of the Indian universities featured any longer on the top 200 universities list of the world. Although in ancient times numerous universities like Nalanda, Vikramshila and Takshila had attracted knowledge seekers from across the world. The downfall was due to lack of research facilities and creative thinking in the country. He emphasized on collaborative efforts to increase research potential, internationalise education, and encourage meritorious students by scholarships. He pointed out that improvement in the physical infrastructure needed to be matched with dedicated teachers, passion to excel and apt human capital. According to him, this modern era, if ushered in, would open new avenues of growth and hence the institutes would move high in rankings which will lead to high morale, enhanced skills and upright citizens.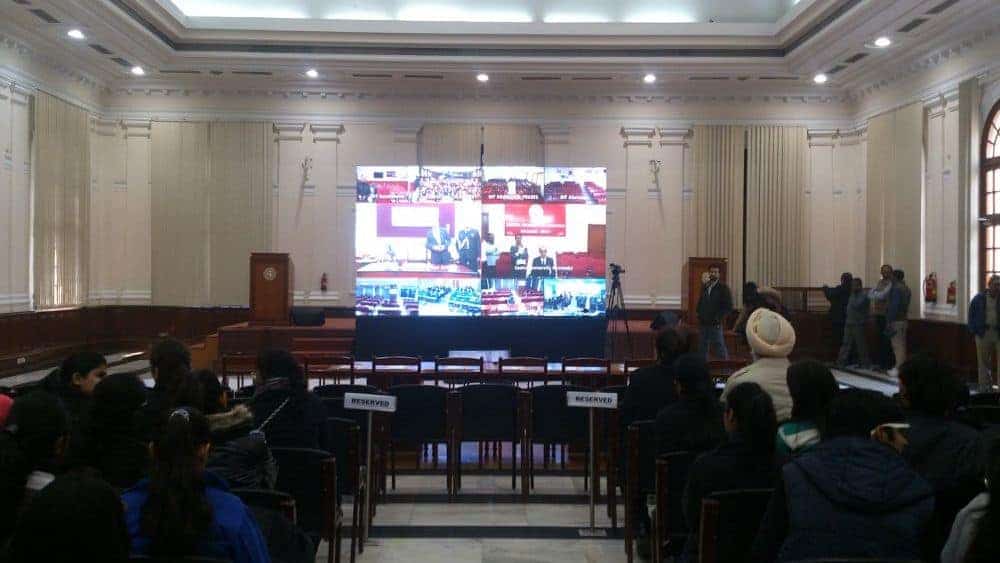 Addressing the teachers, he advised them to be inspiring, make students appreciate and explore the subject beyond discipline. He shared his definition of a ' responsible citizen' – one with patriotism, compassion, integrity, tolerance and respect for his rights and duties.
"It was a wonderful experience to see what a great visionary like Mr. Mukherjee expected from us. It's a great way to motivate the youth, for this hasn't really happened before and is a message to other leaders to come forward too." said Abhinn Khanna, second year DU student.