"The youth is the power of India. When the whole world will have its population concentrated in the old age, India will rise with its youth." These were a few of the inspiring words said by Mr.Shashi Tharoor, Hon'ble Union minister of State of Human Resource Development at the Vidyarthi Panchayat organised for Delhi University students on the 29th July at the North Campus Conference Centre.
The Vidyarthi Panchayat is an initiative by DUSU and NSUI. It is a platform to raise our voices & get grievances redressed. The main aim is to give students a proper channel to address the various issues in the college campuses.
The initiative was started under the programme "Lead Your Campus" which aims to empower students to fight for their rights. They have not just introduced the concept of such panchayats to Delhi University, but to other universities as well. They believe that Vidyarthi Panchayat is a platform to bring students and college administration together.
The issues and concern raised in the Vidyarthi Panchayat would be published on the university website and they would be acted upon by the required authorities. The hearing was honoured by Dr.Shashi Tharoor, along with Prof. Dinesh Singh, Vice Chancellor of Delhi University.
Many questions were raised at the Panchayat regarding the lack of proper communication between the administration and students regarding several provisions of examinations because of which the students have to often re-appear. The Vice Chancellor assured that everything is being put on the websites so that students don't have to just rely on information counters for the same. Questions were also asked regarding the ruckus created during the election campaign. Other concerns such as students not being granted admission despite clearing the cut off lists of colleges were cleared by assuring that an Enquiry Committee had been formed for the same.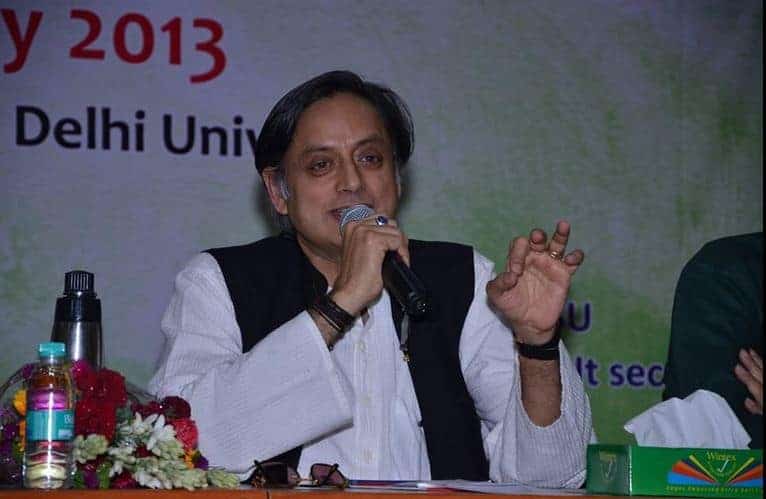 A parent also managed to get in and took out all his frustration on the authorities present for not letting his child get a chance to apply for the desired course she wanted. However, at the same time, many voices were left unheard and the NSUI members seemed to be passing on the mike selectively to certain people, as if it was pre-planned.
The initial small turn out delayed the event and overall it failed to gather the level of audience it should have attracted. Though Dr. Tharoor honoured the students by his presence simply for half an hour, he made sure all the grievances presented before him were properly taken care of. As a whole, it was a good initiative taken by DUSU and NSUI but an equal opportunity should have been given to all in order voice their concerns.