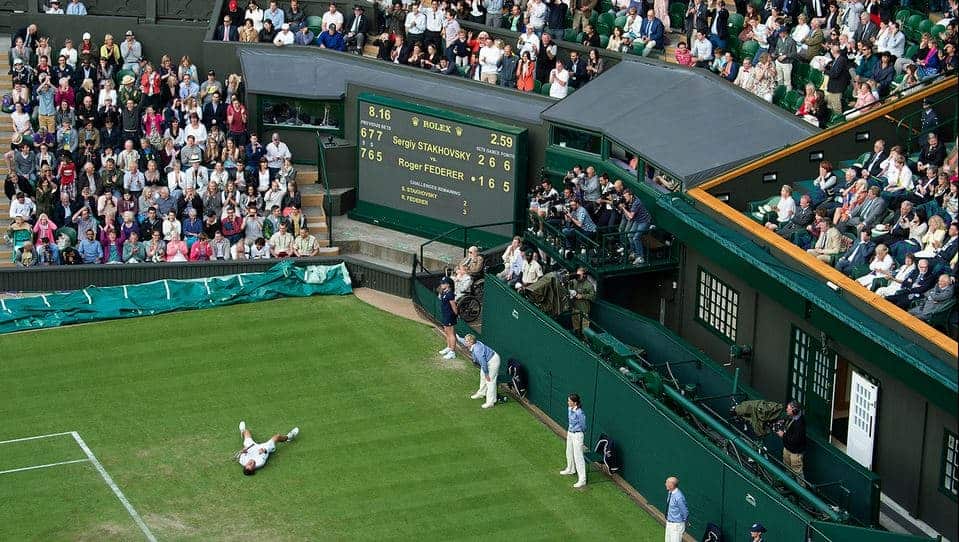 The lush green grass, the early morning look of the courts, the white dress code, world's best players all ready to fight it out  and the charm of the best Grandslam that seems to have engulfed the masses. Yes, it's Wimbledon time of the year again. For some of us, it's sheer joy to witness some classic tennis every year on those courts. For some others, rivalries are renewed. It's the age old division of die heart fans into two camps- Federer  v/s Nadal , yet only a few can refute the tension and the excitement that ensues a Federer-Nadal final at Wimbledon.
And this year happened to be no different. With hopes that high and enthusiasm reaching new levels, we were all set to go all out and root for our tennis champions. But soon enough, those hopes were to be shattered. The string of improbable exits began with Rafael Nadal who had to exit the first round as world number 135 Steve Darcis pulled off one of the biggest successes of his career. This gave a sense of jubilation to the Federer camp which now seemed to have an upper hand. But no sooner, they too were slumped to a shock with the Seven-time Wimbledon champion Roger Federer being stunned by the 116th ranked Sergiy Stakhovsky in the second round of Wimbledon.
Well, just when we thought things couldn't get worse and probably there's still hope the tournament lost six former No. 1 players on Wednesday: Sharapova, Azarenka, Caroline Wozniacki, and Ana Ivanovic among the women and  Lleyton Hewitt amongst the men.
What was to come more recently was yet another Wimbledon shocker and tragedy with Serena Williams joining the growing list of marquee names eliminated early at this wild and unpredictable championship.
While some of us have called this one of the worst Wimbledon Championships the world has witnessed, there is always a brighter side. With Djokovic and Andy Murray being the last hope for a lot of us, we should perhaps not underplay the immense potential this tournament brings out every year in terms of discovering new talent and for all you know there might be a lot of new Nadals in the making. So for that and the love of tennis which is just unmatched  when it is played at this Grand Slam which has its own charm, let's keep our fingers crossed  and still be glued to our television sets.
Image Credit: Wimbledon 2013 official website