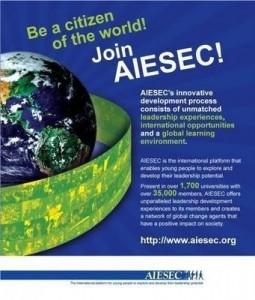 Formed in 1948 to re – establish the severely damaged relations between European nations after the second world war, AIESEC ( Association for International Etudiante of Science, Economics & Commerce) became global in a very short period of time. Today it is the largest student-driven organisation in the world, spread around 113 countries. It provides its members with an integrated development experience comprised of leadership opportunities, international internships and participation in a global learning environment.
AIESEC in Delhi University was brought into existence in 1984, and is the highest performing Local Chapter in the world. Awarded as the best local committee of AIESEC India in 2011,  it is one of the pioneering local chapters of the organisation. The committee has been active in organising events like Udaan, which  was an event held on 12th July 2012, the main motive was  to bring out the artist in every child by providing underprivileged children in New Delhi, the opportunity to exhibit their dormant talents through cultural workshops and competitions and direct them towards quality educational opportunities. Stub it out was another such event which aims to spread awareness about tobacco related cancer. AIESEC DU's largest event till date, the YOUTH CARNIVAL, held on 1st September, was an effort to gather an estimated 7,000 students from all across Delhi to showcase talent and the sheer power of the youth, in a global, multicultural environment. AIESEC in Delhi University present in over 30 colleges including LSR, SRCC, St. Stephens, Miranda House, Amity, DTU, etc.
AIESEC in India has established itself in the country and  is now present in 23 cities of India including Chandigarh, Lucknow, Mumbai, Dehradun, Baroda, Chennai etc.
AIESEC helps develop leadership capabilities through their internal leadership programs and engages students and graduates in international student exchange and internship programs for profit and non-profit organizations. Global Internship Programme (GIP) and Global Community Development Program (GCDP) are intense learning experiences that connect members through AIESEC's global network. Each year more than 10,000 members go abroad to take up the challenging opportunity to live and work in a foreign country.
"We at AIESEC engage people from all over the world to achieve meaningful ends. It's all about the experience. If you say you're with AIESEC, you can be: a) doing an internship in any country of any continent, except Antarctica, b) providing international human resource to companies like TCS c) running your own social development project d) doing a lot of cool value adding stuff like sales, marketing, design, communication, public relations e) having fun in life", says Adhiraj Singh, Local Committee President, AIESEC in Delhi University and a 3 rd year student of Ramjas.
Global Internship Programme (GIP) comprises a wide range of internships in fields such as Finance, Marketing, Network and Database, Engineering, etc. These internships are specifically aimed at developing the participants professionally and enabling them to specialize in a certain field of work.
The Global Community Development Programme internships (GCDP) are related to working with NGOs, organizations and schools in project which are meant to have appositive impact on the society. The main focus of GCDPs is the personal development of the participants and the cross cultural experience they are being provided with. Examples of projects with which an intern can work are, raising HIV/AIDS awareness, woman empowerment in the society, teaching, fundraising, entrepreneurship, etc.
The internal local committee leadership programmes, The Team Leader Programme (TLP) and the Team Member Programme (TMP) is an opportunity for a young person to develop entrepreneurial and responsible leadership by living a practical team experience at a local, national, regional or global level.
AIESEC's growing physical and virtual reach makes it the most credible and diverse global youth voice. The organisation is recognized across sectors as the first choice partner for its ability to develop responsible and entrepreneurial leadership. Its collaborative environment empowers every member to live a high quality AIESEC experience, creating a cross-generational positive impact on society. AIESEC'S partners include Hewlett Packard, UBS, Cadbury-Schweppes, Coco cola India, ABN AMRO, Tata & Sons, Godrej Industries etc.
"64 years of Striving for Peace and Fulfilment of Humankind's Potential, we believe in international experiences that bring the world together, in providing personal and professional development experiences that change people's lives for the better. We are grateful to grow everyday and spread the values and vision that we believe in."
For more information about our internship programs, contact
Aishwarya Tandon
Vice President
GIP – OGX
AIESEC in Delhi University
[email protected]
9911076038