<![CDATA[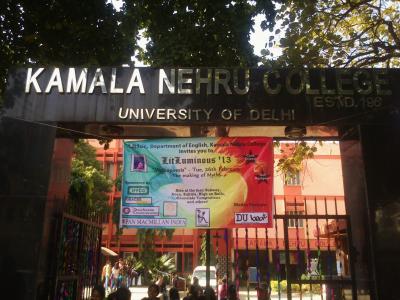 A bright tuesday morning saw me entering the gates of the my college to be greeted by Medusa, Zeus, Ganesha , Shiva, Minotaur and various others. No, I do not go to a college for mythological creatures, I just wish I did. I was actually in Kamala Nehru College and it was 'Litluminous 2013'- The literary fest organized by the English Department, with the theme as "Mythopoesis- The making of myths." Roaming about, I garnered that there was a lecture and then a screening of 'Sita sings the blues' in the auditorium at 10:15. Dr. Angelie Multani, an Associate Professor at IIT-Delhi delivered an intriguing and going by the maximum responses, an interesting lecture. Says Tina Das, an student of English who when not busy participating in the competitions, volunteered to manage the activities, "It was interesting, mainly because she did not just talk about the myths we have heard about, like the Ramayana but also myths that we see everyday like 'the ideal woman' and how we have started accepting it without even realizing." On Dr. Multani she said "she did not let your attention waiver even for a second." Next on the cards was the Creative writing competition whose 'prompts' left a lot of participants impressed, yours truly included. The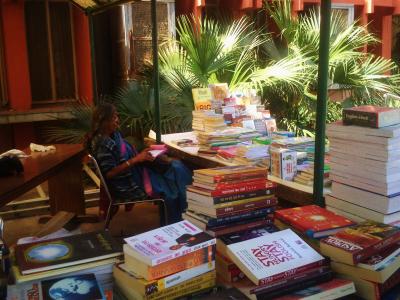 participants could base their composition on the Phoenix, Adam and Eve, Kalki, Medusa or Sisyphus, or all of them. The one hour allotted saw a lot of creative juices and reminders of 'Don't Google, ask us' flowing around. The selected entries had to go through another hurdle of reciting their creative product to an audience, after which the judges came up with their results. I caught up with Namra Sultan, the brains behind the competition, who was immensely pleased with the response the event got. She said, "Since the fest is based on mythology we picked up the most interesting characters with different traits and we made the slide show visually interesting so that when you see them, you just feel like writing". Alongside, the student paper presentation saw submissions on varied topics like Myth and Video Games, Heroes of Mythology, Riti Poetry and also on the Myth of Menstruation. I have it on good authority that the papers were really interesting. The fest also included an interesting mythology-based Quiz in the chaupal. Some of the questions made you rack your brains hard,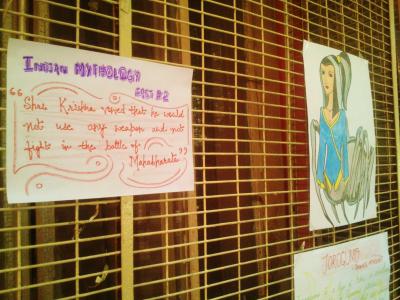 some answers made you laugh harder. The hosts, Akriti and Akanksha had a blast with the participants who battled it out for the cash prizes.
The Book Cover Designing Event saw very talented and artistic participants. The event was judged by noted Art Historian, Seema Srivastava whose excitement was palpable. She also gave interesting tips to the budding artists. "
One of the most crowded events of the day was the 'Crosswords'. I lost count after my fifth visit. Tarishi, who was guarding the Crosswords event informed me of the rules; pick a chit from the bowl, read the hint and you have 30 seconds to answer. If it's correct you get chocolates and if it's not come back after 15 minutes to try again. "No Google, no eye contact with friends", she informed us very diligently. Tina claimed disappointedly that the crowd this time was less than expected; she blamed it on students associating mythology with boring. "What we have tried to do is not look at myths just as myths but something more than that. A lot of hard work went in the preparation for the fest and even the teachers played a huge role in every competition."
After a lot of wandering around and playing Hunger games with the cupcakes, I finally decided to retreat to my nest and bade goodbye to the mythical creatures who were in demand again, thanking them for a day well spent.
Niharika Singh (

[email protected]

)
]]>