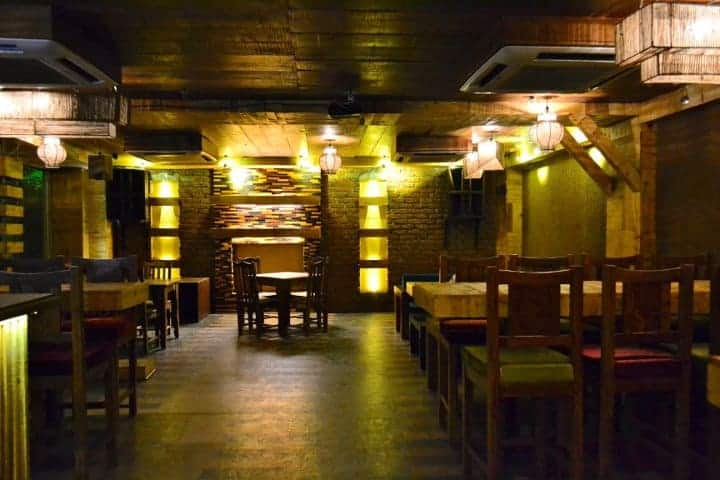 As soon as I commenced with my blissful days at college, I was fed in with vivacious information about the most happening places where one can bask in the glory of youthfulness. One such place, which is primarily known for its fort and the elite designer outlets, is Hauz Khas Village. Situated in the most prime location, with not much to outcompete when it comes to luring the youth is café Out of the Box.
As I paced myself up the bizarre staircase which always seems to be under renovation, I was welcomed by the daintiest lighting of gorgeous lanterns and soft glowing bulbs which accentuated the earthen touch of the place, furnished chiefly with wood. Another staircase drove me up to the next level, where a well-defined section of outdoor seating entices most customers to sit by to take a breath taking view of the lusciously green deer park and the famous lake. Good music and an exquisite ambience was enough for me to take an instant liking to this place.
An impressive menu offering an extensive variety of starters and mains, this place caters to a bit of everything. The pastas and pizzas are the most popular among customer choice, but what endured me the most were the Lebanese and Mexican delicacies. The humus and pita bread platter was the dance of the evening along with the chicken 'n' cheese nachos. For desi lovers, this place offers a variety of local delights like pao bhaji, tandoori tikkas and much more. The desserts as mouth-watering as they sounded were much to our disappointment as they did nothing to kick up another beat.
The only USP of this place is its location and ambience, which makes it 'out of the box'. With no specialization in any cuisine, the café barges into territories of being very average in terms of taste and quality of food. The sloppy service is another aspect that should be improvised upon. With occasional band performances, this place electrifies the ambience further and attracts more customers. In terms of pricing, it might just burn a hole in your pocket if drinks and hookah are included. But it's a worth a visit, simply owing to its gorgeous interiors and location.