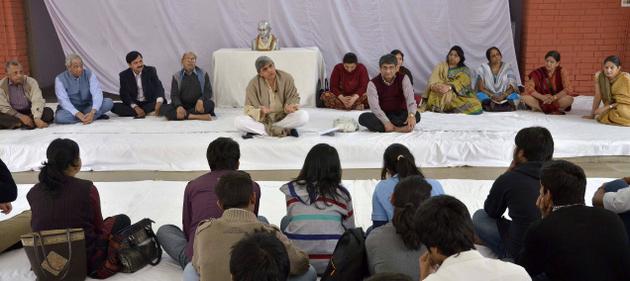 Many students and teachers marked their presence outside Gandhi Bhavan in the North Campus on Thursday to put forward their complaints and grievances. Delhi University Vice Chancellor, Dinesh Singh, organised a public meeting in the midst of protests by students and teachers against rejection of 32 applications for special chance and evaluation system.
Grievances of students and teachers were heard by the VC and Singh also promised to resolve attendance-related issues of a batch of students from Dyal Singh College who, after being allowed to write three semester exams, were suddenly detained from writing the fourth due to lack of attendance. He also heard another student who was detained from writing her law exam for lack of attendance due to pregnancy
Later DUSU brought the protest to the door of Gandhi Bhawan. "Vice-Chancellor hai, hai," said a group of students holding black flags. After about half-an-hour of negotiations between the students and the Proctor, the Students Union's office-bearers were allowed inside. Delhi University Students Union (DUSU) President Arun Hooda argued why they were not informed about the durbar and why they needed to fight to get inside and participate in durbar.
The Union also questioned the decision of denial of special chance to students which allows them to take exams they earlier could not during the time of their graduation due to any emergency, in reply to which Mr. Sigh said that special chance placed a tremendous amount of pressure on the exam branch. He also added that  such a provision could be allowed again if the students could give him in writing that they will have no objections to the results of those currently studying in DU being delayed because of special chance. Singh's team explained that the provision was withdrawn to give "relief to exam branch". To accommodate re-testing of students who took admission years ago the university has to dig up years-old syllabus, set question papers and then find people to evaluate them accordingly.
Anger burst out after Academic Council's standing committee rejected all 25 cases of "special chances" which the Delhi High Court earlier this week had recommended to the panel to be "reconsidered". The Vice Chancellor later assured that the 25 cases were rejected in their present form as the documents were insufficient and will be reconsidered later.
VC called this meeting a bit of success and said that "this is not a one-off public discussion, but will be happening every Thursday whenever I am in the city." He further added that everybody was welcome and no prior appointment was needed.
However Saikat Ghosh, a DUTA member said, "Having a cup of tea with us will not make everything alright, we will soften our stand only if he is genuinely interested in sensitively addressing our concerns".
Image source: The Hindu
Sakshi Gupta
[email protected]