The teachers, students and karamcharis have not yet given up against the alleged "Unprecedented assault on democratic rights" by the DU's VC. Wednesday, 31st October 2012, DUTA (Delhi University Teachers Union), backed up by DUSU (Delhi University Students Union) and DUCKU (Delhi University College Karamchari Union) burned the effigy of the Vice- chancellor outside his office at around 3:30 pm.  The DUTA has been on a relay hunger strike since the 10th of October demanding from the vice chancellor answers to their various grievances concerning arbitrary imposition of "academic reforms", withdrawal of the right to revaluation, violation of anonymity of exams, delay in declaring exam results so on and so forth.
Around hundreds of students, teachers and non-teaching staff gathered to witness and participate in the protest. The administration tried its best to dissolve the crowd and curb the burning process by instructing the university's security personnel to steal away the effigy, but the DUTA continued anyway. The security breached the law in front of the ineffective and mute police force by trying to take away the head and other parts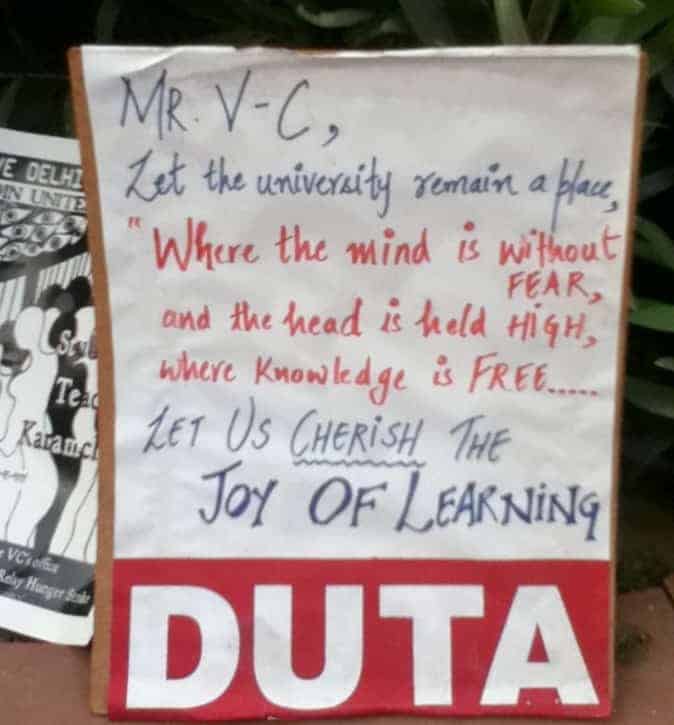 of the effigy. The crowd arranged another effigy and burned newspaper in the meantime.
"It was a complete chaos, with officials trying to crush the protest and crowd not budging from the venue. It is quite shocking that the police were just standing there, doing absolutely nothing!" said Vidushi a student. "We have no idea what is going on in the university, even the teachers are at loss. There are new academic changes with every passing day!" adds another.
Teachers said that the authorities are now spreading rumors that the DUSU and DUCKU have withdrawn their support from the movement. "This is shameful. This is for the first time that DUSU, DUCKU and DUTA have come together. We have letters from these unions citing their support," said a DUTA member.
Aishwarya Chaurasia
[email protected]