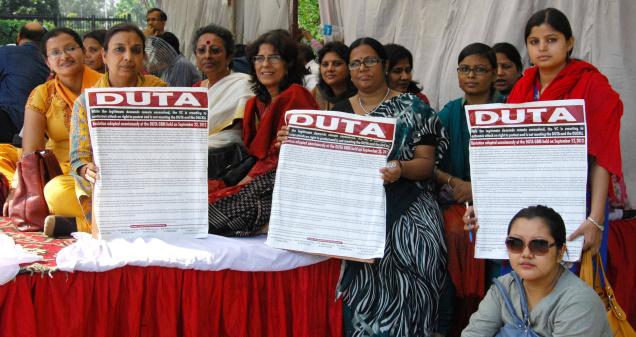 Emerging from what has transformed into a completely bitter symphony, the on-going tangles of discontentment have brewed into a series of brawls between the DUTA members and the Vice Chancellor of Delhi University. The coercive governance by the authorities and the non-receptiveness of any dialogue with the teachers pertaining to the up surging issues, followed by insinuating the teacher's association as 'illegal' has sprung up a steamy situation for every stakeholder of this renowned university.
On Wednesday the hunger strike by DUTA members marked the tenth day of protest, channelizing a way for the emergence of yet another agenda for Thursday, 18th October.  On the aforementioned date the members of DUTA marched barefoot around the campus of the university to ascertain the Right to Education to the economically weaker sections of the society, in the arrears of massive privatization and commercialization. The motive of the protest was also a well sunken thought to stir a voice of justice for the girl who was molested during the DUSU elections earlier. An air of pitiful disgrace was expressed with respect to banning democratic protests in the campus post the incident. The strike seems to evolve due to a multitude of driving factors arising due to the haphazard manner in which the university is dealing with semesterization. In the ambit of unilateral decision making, the authorities have completely shunned out on any influential contribution by the teachers who are intricate brunt bearers and facilitators of the semester system. The threat of pay cuts in case of any demonstrations has also leapt as a severe bone of contention. There are several questions being posed on the claimed acceleration of the standard of the university which has duly failed in providing and enabling the mere necessities of a conducive environment for accessing education.
The acceptance and enhancement of semester system as another rung in the towering ladder of a 'glistening' education in this country continues to be a contentious argument, one year after its implementation. Students have queued up their dismal grievances to unflattering redressal, corresponding to which they extended their support and accompanied the teachers through the days of the strike. In the domain of responsible demonstrations, the teachers have ensured regular classes and have prudently conducted these strikes for a cause. Deliberation and enactment can only condense the appalling situation of the largest democracy's top ranked university, where the essence of an ironic situation seems to persist.
Image source: The Hindu