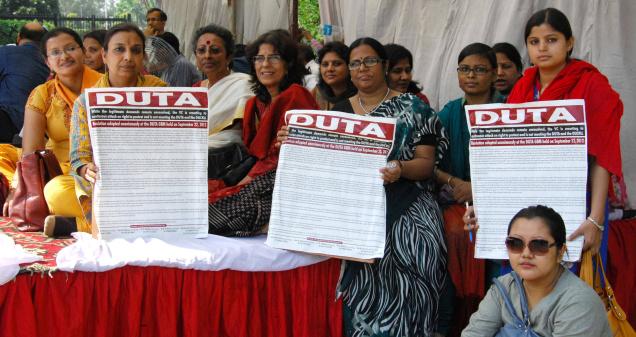 After making umpteen appeals to the VC, the Delhi University Teachers' Association (DUTA) has decided to up the ante. The association has been sitting on an indefinite relay hunger strike from 10th of October against the way decisions were being made in the varsity.
Twenty-three teachers from Ramjas College, Daulat Ram College, Delhi College of Arts and Commerce and Deen Dyal Upadhyay College and eminent DUTA executive members – DUTA secretary S. D. Siddiqui, former DUTA president Aditya Narayan Misra and Academic Council members A.K. Bhagi and M.R. Chikkara were the prime participants on first day of the strike.
"Teachers are increasingly being thrown out of decision making and the VC has shown utter disregard to the teachers' democratic body," said DUTA Executive member Abha Dev Habib.
DUTA is against Vice Chancellor for his contemptuous ignore of the teacher's association and destroying the entire academic fabric by announcing new courses and academic programmes through media and running the University as his personal fiefdom.
"VC has browbeaten the entire university fraternity to accept his fanciful decisions. The drastic changes in examination and evaluation of answer-scripts, yet again announced to the media without any discussion in the Academic Council, may justifiably seem insane to the public at large but they also serve to aptly illustrate his egoism and the utterly deluded and directionless nature of his reforms,' said one of the DUTA members.
In spite of the strike classes were not called off and teacher's taught by taking leave for some time to take their classes.  Last time VC ordered principals of colleges to deduct salaries of those teachers who participated in the strike on 28 August.
DUTA is also planning a candle-light vigil on Friday night to further their cause. The candle-light vigil is for the 4,000 teachers who have been condemned to continue teaching in ad-hoc capacity despite being eligible.
Sakshi Gupta
[email protected]
Image source: The Hindu