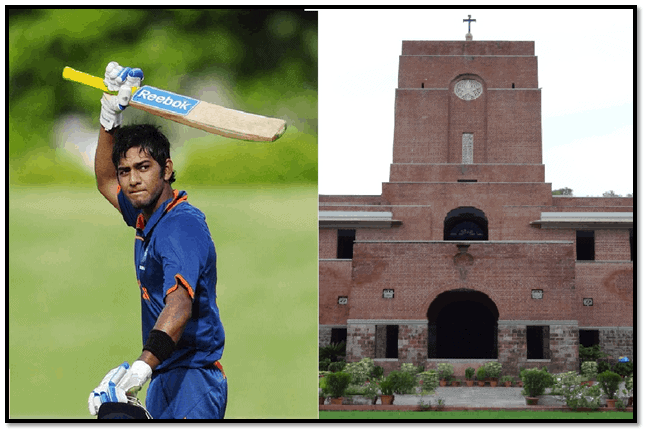 Latest cricket sensation Unmukt Chand, captain of the Under-19 Indian cricket team, might have garnered heaps of appreciation for his striking innings in the Under-19 Cricket World Cup, but barely had he the slightest of idea that it would also trigger off a countrywide debate.
Apart from being an incredible cricket player, Chand is also a student of B.A. (Programme) in St. Stephen's College. However, his association with the college has been rather hostile. Earlier this year, following the denial by the college authorities to issue him the admit card for final exams on the grounds of inadequate attendance, he decided to approach the High Court and filed a petition in May stating that since he had got admission under the sports category, a certain relaxation in attendance criteria should be given. Although, with the involvement of the court Unmukt was able to seek permission to appear for exams; he didn't approach the court on time and consequently could appear in only two exams out of four thus failing to clear the same.
However, in what appeared to be a favourable turn of events for this talented youngster well-known sports personalities decided to pour in support and speak in the matter. From the former national-level cricket player Kirti Azad, also a Stephanian, to current captain of the Indian national cricket team Mahendra Singh Dhoni, lot of people raised questions about the harsh treatment meted out to Unmukt. The Principal on his part was caught in a no win situation as he would receive flak both for abiding by the rules and subverting them.
Apparently, Union HRD minister Kapil Sibal and sports minister Ajay Maken also stepped in and spoke to the Vice Chancellor Dinesh Singh who assured them to resolve the matter on priority basis. While responding to the letter written by Maken in this regard, VC said that they have asked the St Stephen's College Principal to forward them all the necessary papers so that they could help Chand, who led India to U-19 World Cup win.
In his letter to the VC, Maken wrote, "You would agree that fostering and development of a vibrant sports culture in the country which would ultimately lead to our better performances at the international arena is hurt precisely because of such systemic bottlenecks that only discourage young people from taking up sports but also stifles their career mid-way."
Finally, after much hullaballoo, with the intervention of the Vice Chancellor, Unmukt Chand has been promoted to second year at his college but he will have to simultaneously clear his first year exams as well.
Moreover, Dinesh Singh also indicated that under the proposed structure — that is expected to be placed before the Academic Council in a couple of months — participation in sports activities will be accorded credit towards regular Daily Programmes and the students will have the choice of replacing some of the academic courses with a structured recognition of participation towards his/her degree.
Vatsal Verma
[email protected]