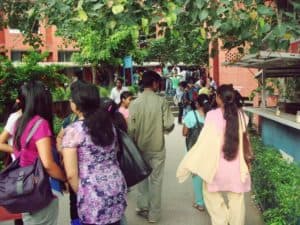 Many colleges across Delhi University welcomed the new batch of students yesterday, the 2oth of July at the orientation programs organised at the respective campuses. Freshers, mostly accompanied by parents, got their first glimpse of college life and got a chance to interact with their new teachers and classmates.
Most orientations started with the respective college Principals welcoming the students and congratulating them for having gotten admission in DU, which is considered to be one of the most prestigious and established universities in India. What followed was a brief history of the institution and a description of the various courses and extra-curricular activities the college offered. After that, department specific orientations were held where detailed and course specific information was provided to the students.
Unlike most colleges, Shaheed Sukhdev College of Business Studies held its orientation at The Conference Centre, North Campus. "The program was very interesting and well organised. It started off with the lighting of the lamp and a welcome address. Along with the Principal, and faculty members, a few college alumni also spoke to us about the college and its many societies and activities. After refreshments, there was an informal
discussion among the new and current students", said Vatsal Khullar a fresher pursuing Bachelor of Business Studies at CBS.
Other colleges like Hindu and Deen Dayal Upadhyaya also had their orientation for the new batch of students yesterday. While colleges such as St.Stephen's , Zakir Hussain and SRCC have scheduled it for this Sunday, Gargi, Kamla Nehru and a few others are set to welcome freshers on Monday, the 23rd of July.