Nitin Gupta performed at the Comedy Concert on Day 2 of SRCC's Crossroads. DU Beat caught up with him in an exclusive interview at SRCC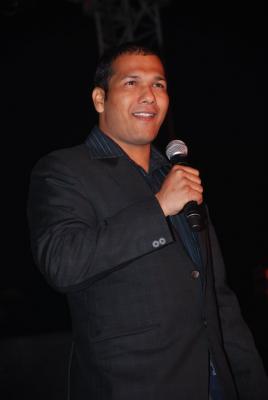 Q: Were you a stand-up comedian in college?
A: Yes. I started in my final year in IIT- Bombay. I was preparing for GRE at that time and I was getting very bored.
Q: Why stand-up comedy?
A: IIT organizes a lot of cultural activities and out of all of them I preferred stand-up comedy because for that, all you need is a mic and some space. The other art forms require equipment, dressing up etc. and more often than not, they're group activities. I feel stand-up comedy is easier to monitor.
Q: Is stand-up a part-time or a full-time job for you?
A: Full time. I work with a company called Entertainment Engineers.
Q: From IIT to stand-up. How did that happen?
A: I was teaching for a year after IIT but then I decided to move into tv shows and pursue stand-up and from there on it's just been that for me.
Q: What kind of audiences do you get in India?
A: They're good. They're very receptive. But there's a difference in the kind of jokes guys and girls enjoy. At boys' colleges I prefer political themes whereas in co-ed or girls' colleges, I talk about romance or dating.
Q: Aren't you being very stereotypical?!?
A: Haha…no. It's from experience. I've seen it myself.
Q: Who inspires you to do what you do?
A: Raju Srivastava, Robin Williams, Ricky Gervais and a few more.
Q: How are you in your daily life? Do you usually joke around like this?
A: I'm actually very shy and stand-up comedy is my way of expressing my thoughts to others.
Q: Your thoughts on Crossroads…
A: I've always wanted to be a part of DU. Couldn't, as a student, but I'm happy to be here as a guest.