For those of you who have entered your last year of college, stop procrastinating and live your college life to the fullest before it gets too late. 
From preparing for competitive exams and sitting for placement cells to having an existential crisis about what to do next, third year can be very busy and stressful. However, this is also the last time you might get to do the cliché college stuff and have fun with people who have become your close friends over the past two years. Who knows what might happen after college; so live in the now and here, and have a wholesome DU experience.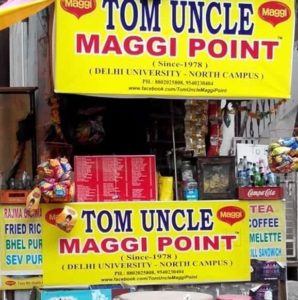 Visit cliché DU hangouts- Places like Kamala Nagar, The Ridge, Hudson Lane, Sarojini Nagar, and Hauz Khas Village are the centre of student life in DU. A hub of students, frequent popular eateries, street shops and nightclubs are here and life as a DU student is incomplete without having visited these places. Tom Uncle's Maggie Point, Kuremal Kulfi, and Sudama ki Chai are also must visit joints for a complete DU experience.

Join a college society- DU is known for its vastly talented and diverse societies. Whether you are into classical dance or slam poetry or filmmaking, whether you want to be the next M.F. Husain or the next Beyonce, chances are that your college will have a society that you can join to not only better your skills, but also share your interests with likeminded people and make friends with people outside your class. It's never too late to pursue something that you are passionate about but for third-year students, this is your last chance to join a college society and win laurels during college fests.

Take part in DU fests- One cannot possibly have had a full college experience without having engulfed themselves in DU fests. Full of cultural events, competitive competitions, food stalls and, most importantly, Pro Nights, the DU fest season is an entity in itself. Fests like SRCC's Crossroads and Hindu's Mecca are highly popular and must be attended (i.e. if you can get the much sought after passes). Outgoing third-year students should get all that they can out of their last fest season.

Give voice to your opinions- College is an important part of one's life, especially for personal development. DU provides us with an opportunity to form independent thoughts and express our views to others on our terms. DUSU elections are an important part of DU and so is student activism. This is your last chance as a conscious and aware college student to take part in protests that you believe in or maybe even start your college political career by entering DU's complex political sphere.

Explore Delhi's student-friendly fests and events- Delhi is a beautiful city and one must visit Old Delhi and other historical places in the city, but Delhi is also home to many annual fests and events that are student-centric. Whether you are a Marvel and DC geek, a self proclaimed art critic or a 24/7 foodie, Delhi has something or the other always going on for you- from Delhi Comic Con to

Delhi International Jazz Festival

, from India Art Fair to Horn Ok Please. As a DU student, especially if you are an outstation one, you must take advantage of living in a multicultural metropolitan while you still can. Further education or great job opportunities might take you away from Delhi next year.

Just take that trip- You know that Goa or Kasol trip that you have been planning with your friends since the first semester? The one that you have been postponing, again and again, cause of some reason or the other? Ya, that one. Well, you're in your third year now, so it's now or never. The year is full of long weekends and two semester breaks, so fix your itinerary or better yet, be spontaneous and just take that one college trip that you have been talking about since forever before you seize to be a college kid!
Feature Image Credits: Adithya Khanna for DU Beat
Juhi Bhargava