<![CDATA[
The Education Tree initiated Youth Photography Festival in New Delhi starting 29th March for four days. The inauguration for the festival was held at DLF Place, Saket on 29th March which was followed by Photo Treasure Hunt. A live photo booth was set up for the first day as well. Day 2 at Youth Photography Festival had an early morning photo-walk at Chandni Chowk where the photographers captured the real essence of tradition Dilli. Second day also witnessed a photo exhibition and a jam session at DLF Place.
For the last two days, the festival moved on to the North Campus, Delhi University for photography talks by experienced and young photo artists. The artist talks were held at Kirori Mal College and Ramjas College on 31st March and 1st April respectively.
It is most important to understand your own photographs: S.Paul
S.Paul, India's most published and awarded photographer internationally shared his personal experiences in the field of photography during the photo talk on 31st March at Kirori Mal College. Talking about cameras and photographs, Mr Paul also displayed his work for the audience on screen, wherein he was explaining the reference and relevance of each photograph. His display collection mainly revolved around the theme "trees", which denoted The Education Tree, organizers of Youth Photography Festival.
Mr. Paul during his 2 hour session created an interactive environment in the chat room. He was cracking light jokes to which the visitors were all praises for the photographer. The artist was talking in Hindi and answering queries of photographers who had come to attend the photo talk.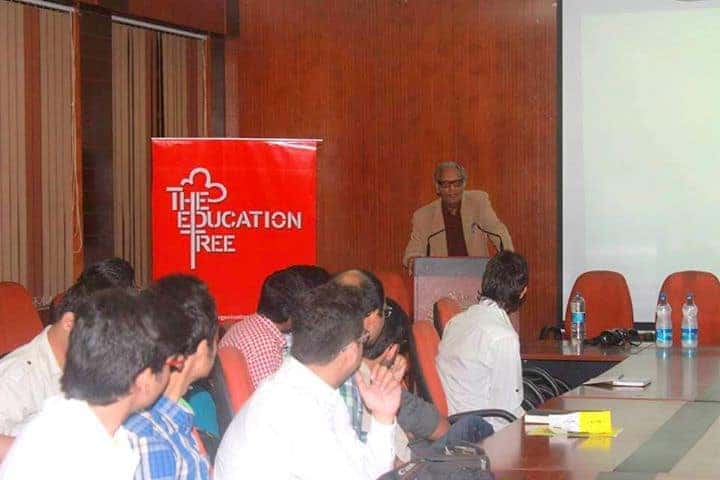 He stressed on the fact that a photographer should understand his own work. "Being a good photographer is not that difficult, but being a good analyst is must", he said. Mr Paul also felt that if someone cannot explain what he or she has clicked, that person is not a good photographer. He also talked about various competitors and friends when he decided to choose photography as a career and discussed pictures subject wise like community, nature, fashion among others.
On being questioned about how should one choose his subject for photography, S. Paul said, "Let us take street shooting, for example. In your first visit do not take the camera along. Studying the culture of street is must, knowing what happens when and where is necessary for a photographer. If one happens to understand this, then take your camera to shoot your subject."
Photographer can't afford to miss a shot: P. Kumar
P. Kumar is a wildlife photographer and a teacher of zoology at Hans Raj College, Delhi University. He talked about how a photographer should learn composition to be good at what he wants to be. He dictated various incidents of his life associated with the field of photography. He displayed his wildlife works on the screen and explained the story behind each picture. His collection included photographs from wildlife sanctuaries, zoos and jungles. The screen also displayed works which ranged from seas to mountains and from cities to villages.
Kumar based his lecture on the four P's – Passion, Purpose, Photography and Prayer. He associated the photographers with the elements of photography that are faith, prayer and conviction. He also talked about abilities of a photographer that can go waste if there is lack of these elements.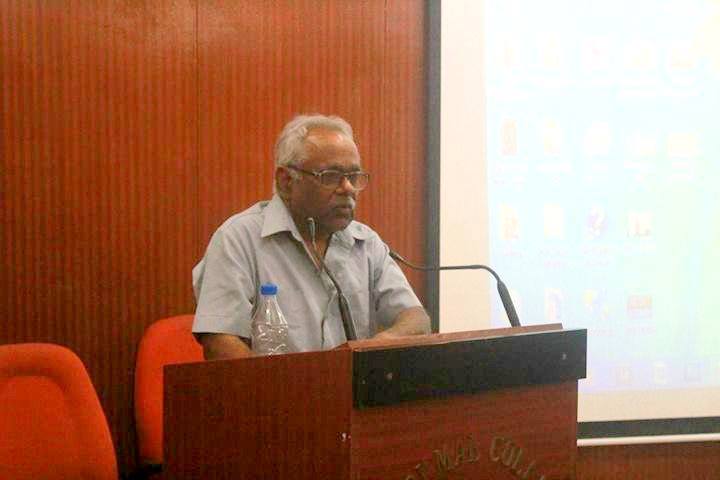 P. Kumar displayed his pictures with Anurag Kashyap and Abhinav Kashyap (alumnus of Hans Raj College) and talked about his heroes. Displaying magazine covers on which his pictures were featured, he says, "Photography needs an element of desperation. Until and unless you are dying to click something, that won't be shot well." He mentioned how the kind of camera isn't important, but the style is. "You will have a big camera and a heavy tripod, you will take 20 minutes to set up and you will miss the shot. In photography, one can not afford to miss a shot. If he or she does, he is not a photographer", he adds.
A little was also discussed about structured system created for the photographers where they do mainstream photography and do not understand the meaning behind it. Before ending the session he threw some light on conceptual imagery and played a few videos shot by him.
It depends on what part of your work you wish to show: Shiv Ahuja
Shiv Ahuja is a young music photographer who based his talk in Ramjas College on 1st April. Shiv, who is a musician himself developed an interest for photography. He also shared his experiences with the bands he used to shoot and the concerts he covered as a photographer. Ahuja highlighted his relations with Raghu Dixit and narrated the story of how he happened to be the photographer of his band.
As a photographer, Shiv says that he loves to travel. "Travel is one thing I can not compromise on. When I travel or go places for a show, in one concert I click around 500 pictures, but out of them not every picture is a great picture. It depends on what you want to show to the world", he adds. So he gave the photographers tips about 'how to be smart while creating portfolios.'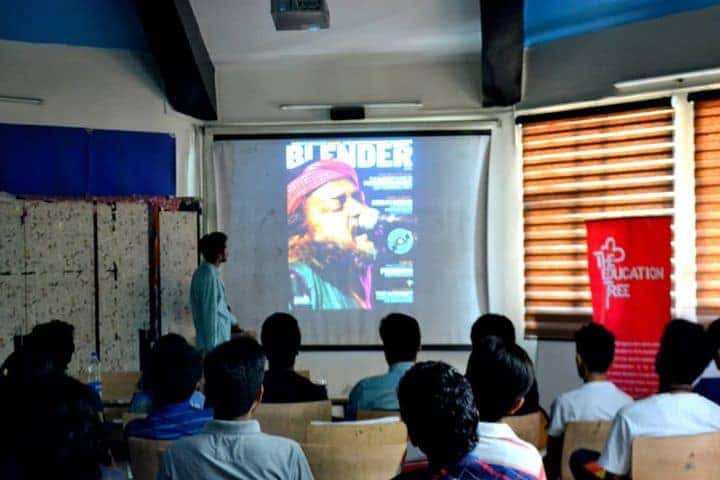 When asked a question about who does he keep in mind while clicking a photograph, the reader (magazines) or the subject (the musician) or his own interest, Shiv answers that it is the final reader who is always in mind. "I am clicking for a magazine. So what matters is what the publisher will like and if published what the public will like."
Deaf artists get no exposure : Pintoo Kumar
Last speaker for the photography festival was Pintoo Kumar. Pintoo is a deaf photographer associated with Atulya Kala, an organization that works for deaf people. Pintoo through his translator, Smriti told everyone that he is an orphan who was born in Calcutta. He tells about the problems he faced in the school/university both in terms of finance and treatment. "Life for us is a copy paste game"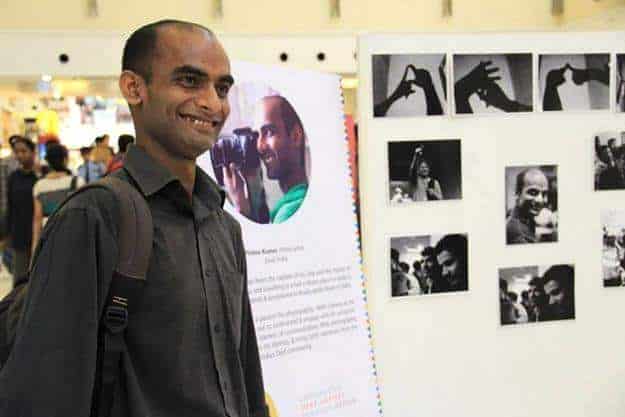 "I love capturing moments. I love telling stories about the culture through my pictures", says Pintoo. Instead of displaying his photography works on screen, he displayed pictures of those deaf and dumb artists who face the same problems as him but who made made something meaningful out of their lives. Photographs of a deaf writer, another deaf artist, a deaf classical dancer, a deaf and mute tea vendor from Delhi and a picture of him were displayed on the screen. He expressed how all of them are not given opportunities and are given excuses of not being equally able.
Pintoo also displayed four photos which pointed out the sign language for four letters of the word 'deaf'. Pintoo sets out to understand and engage with his surrounding and transcend the barriers of communication. He was appreciated by everyone by raising the hands, which is a sign language for clapping.
With this the Youth Photography Festival #YPF came to an end.
Image Credit : The Education Tree
]]>