Chaos arose at Hindu College as multiple candidate nominations were rejected for the ongoing Student Union elections. Students are protesting to demand an answer from the administration for the same.
Protests are ongoing at Hindu College amidst its Student Union election procedure, where hundreds of students have staged a hunger strike. This has come as a result of the cancellation of over 30 nominations for the posts of Prime Minister and members of the Central Council at the College, without any explanation from the Principal. The students are demanding transparency from the administration, which has reportedly failed to provide any answers yet.
On September 15, the College released the final list of contesting candidates for the concerned positions. For the post of Prime Minister, only two candidates have been selected. While there are two seats for members of the Central Council, only one candidate has made the list, leaving one seat vacant.
During the nominations, scrutiny did not take place under a witness, and neither is there any video proof to rely on. The selection process has been very arbitrary and the candidates who applied have not been given any updates regarding the reason behind their rejection.

-SFI Hindu via Instagram
The situation is being referred to as "an attack on democracy" by the students, who describe this as the administration's way of unfairly choosing candidates in order to have more control over the activities of the Student Union.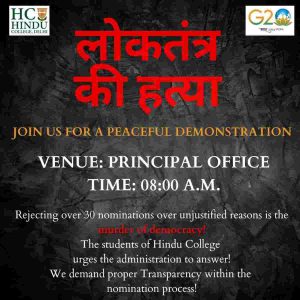 On the 15th, protests commenced on the campus. Posters regarding a demonstration outside the principal's office were spread on social media, and circulating videos showed student activists entering classrooms to talk about the issue.
When we approached the administration to enquire about the rejected nominations, we were told that the principal is on leave and the office shall remain closed. We will be on a hunger strike until we receive an answer from the administration.

-Manoj Jangir, a student whose PM nomination remains cancelled.
Police forces were later deployed on and around campus, where protesters were present. In an interview covered by 'Delhi Uptodate', protestors claimed they were baton-charged and said their hunger strike would continue until a justification for cancelled candidatures is received from the Principal.
As of September 16, the situation remains similar. Most classes stood suspended in light of the ongoing protests.
Read also: Protesters Demand Suspension of DRC Principal Dr Savita Roy 
Featured image credits: CNBC News
Arshiya Pathania
[email protected]