This article adds to the buzz and discussion surrounding the "degree-walas"- the graduates who have been taking not only social media but also the street food industry by storm.
"Graduation ke baad college ke bahar momos ka stall kholenge" (after graduation we'll open a momos stall outside college) and "Yaar maggi wale bhaiya kitna kamate honge?" (how much do you think the maggi seller earns) are just a few of the many statements that define a college student, particularly one unsure of what the future holds. For most of us, they are merely a lighthearted escape from the constant degree and college slander and are not intended to be taken seriously. These statements, casually thrown around in after-class conversations, are among the many promises that are made and buried over the course of a degree. But much like how some are able to finally turn their Goa and Manali trips into reality, some capably materialise this as well. I dived into writing this piece without realising the commonality of what I was writing about. It turns out that the relationship between rigorous academic degrees and simplistic street food is more ubiquitous than one would have thought.
From MBA Chaiwala to B.tech Panipuri wali, recently it has been quite hard to overlook viral videos on social media wherein fancy degree holders are venturing into classic street food businesses with an added touch of their own. From fire kulhad pizzas to comforting rajma-chawal, there is something for everyone!
Most recent is the virality of Tapsi Upadhyay, a 21-year-old engineering student who captured the attention of food enthusiasts by giving the beloved panipuri (I prefer the term golgappe) a healthier spin. With "air-fried" pani puri and "organic" tamarind and jaggery sauces, she started her business to contribute to a 'Swasth Bharat'. As much as one could concur our nonchalance towards "healthy" street food, the idea appears to be working for her. Within just 6 months of operations, her team has been able to expand to four carts at multiple locations across Delhi. However, internet users' reactions to a video detailing her inspiration and hardships, which has gained over 13 million views on Instagram, have been conflicted.
"Hats off that she is doing everything it takes to be her own boss and being financially independent."- an Instagram user

"A degree doesn't guarantee a good job with good living standards. Good to see she started something of her own. All the best to her." – said another user on social, complimenting the business
On the flip side of the coin, a small part of users have also been vocal about this apparent misdirection.
"Not demeaning anyone but can't understand why people after doing a good education start street food and term it as entrepreneurship. After completing B.Tech one should think of new technology and innovation rather than selling street food." – a third user on Instagram

"Wearing a cap is cool but wearing a helmet is a taboo." – remarked another person in reference to "Panipuriwali" being spotted driving a Royal Enfield Bullet without a helmet.

Snippet from the viral video showing B.Tech panipuri riding a bike with her pani puri stall attached behind, Image Credits: @are_you_hungry007 on Instagram
The tags such businesses possess, which undoubtedly attract intrigue and help with fame, may sometimes have a hint of clickbait as well. For instance, when one hears of MBA Chaiwala, they would inadvertently think of somebody who after slogging for a degree they have no interest in, spent years in the tortuous corporate sector only to realise their true love for making and selling chai. However, the idea simply developed from a rejection from the three-lettered dream college franchise of many graduates. So maybe, if you are looking for a sign to "follow your passion" AFTER doing an MBA, this might not be the best one.
But it goes without saying that one would question how these individuals break free from the shackles of log kya kahenge? (what would people say?) More specifically, why would they need to?
For starters, the 'hustle culture' is a term with exceedingly mixed opinions and something that most university students unwittingly fall victim to. However, Indore-born student Ajay is a true example of what grit and perseverance are all about. He sets out at night with "Indore's first chai on wheels" in the hopes of selling his "Cycle-wali-chai" and making enough money to pay for his coaching, education, and a comfortable sustenance.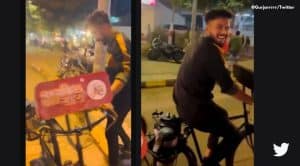 Ajay sells tea at night to pay for coaching classes, Image Source: The Indian Express
For others, it might be about embracing the entrepreneurial spirit and the startup wave India takes immense pride in. In an exclusive conversation with DU Beat, Prasenjit Bhowmick talked about his inspiration to work on 'Engineer Momowala'.
"I always wanted to be in the IT department but my parents forced me to go into mechanical. But I started learning about things like web development and government documentation from YouTube so I could work in a real estate company. But the turning point was when I realised that if I could help a company go from a shuttered office to 8 branches in a single city in just 10 months, then why couldn't I build a successful company of my own?"
For a Bangalore couple that went viral for reportedly earning 12 lakhs a day, 'Samosa Singh' was about owning something of their own and possessing the desire to take it to newer heights. Transitioning from high-paying jobs and selling their apartment to build the company further must not have been the easiest of tasks, but their love and devotion towards samosas and its "reclamation of the rightful place among Indian snacks" got them where they are- a company with an annual turnover of 45 crore rupees.
People jumping on this bandwagon might also be doing so as a means of escaping the grind of a 9–5 job. With India recently becoming the most populous country (yes,that day has finally arrived and no, it's not 2030 yet) and job seekers outnumbering quality job openings, this could offer significant respite from the dearth of employment opportunities in a highly competitive economy. This is what was experienced by Priyanka Gupta, a 25-year-old economics graduate from Bihar, who became Patna's 'Chaiwali' after failing to crack bank examinations for two years. Being a student of economics myself, I would understand the need to do away with the quantitative distress the degree unfurls on you (smiles painfully), but starting a 'tapri' of your own is harder than it sounds.
"I went to different banks and asked for a PM Mudra Loan, but they refused. Finally, after running around for one and a half months, I borrowed 30,000 from a college friend." – Priyanka Gupta, 'Graduate Chaiwali'
Lastly, I wonder if the fame and existence of such ventures is short-lived. With over 50 million videos across social media, are these only for a one-time experience and places restricted to a couple of Instagram stories and reels? I wonder if we are responsible for over-popularizing them, it is after all just chai and samosa.
Read also: The Home Conundrum, and the Battle of Graduating – DU Beat – Delhi University's Independent Student Newspaper
Featured Image Credits: Hindustan Times
Manvi Goel
[email protected]