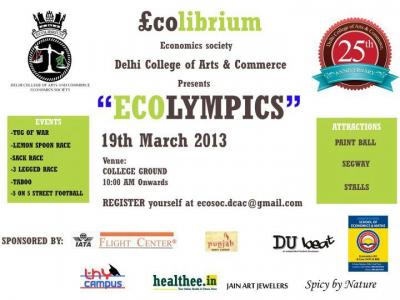 While Economics departments of other colleges go about organizing their departmental fests, Ecolibrium, the ecosoc of DCAC has come up with a new refreshing idea of`Ecolympics: sports day with a twist' as they like to put it.
Ecolympics, to be held on 19th march, 10 am onwards in the grounds of DCAC seeks to bring together students, teachers and staff of the college for a fun filled day. With competitions like lemon race, tug of war, sack race, 3 legged race, taboo and 5 on 5 football, participants will not only get a chance to revisit and relive their childhood days but also a chance to win cash prizes worth Rs. 12000!!
The main attractions of the day however, will be the popular Paint Ball and the Segway. For those who don't know, Segway is a two-wheeled, self-balancing, battery-powered electric vehicle and a fun ride.
To complete the day, there will be some good food too, to fill all those hungry stomachs after a day of jumping around.
In their attempt to make 19th a crazy and memorable day for the participants, Ecolibrium has received immense support and encouragement from their sponsors Jain art jewelers, Healthee.in, Sangeeta Bedi School of Economics and Math's, DU beat, IATA Flight Center, Punjab sweet corner thy campus  and Spicy by Nature .
"We are expecting a participation of at least 150 people given all the excitement it has created among the students" Says Siddharth, Vice president, Ecolibrium.
Here's a day dedicated to fun, freedom and of course spirit of sportsmanship spirit!