With temperatures soaring up to 47 degrees and most parts of India being engulfed by the devilish summer heat, a getaway to the Himalayas can never be overrated. Regardless of the brutal temperatures in other areas, this region seems insulated from the heat and perfect temperatures reign throughout the summer. Of the many beautiful places to choose from, Darjeeling which has aptly been called the "Queen of the Hills,' should be on top of your holiday itinerary this summer! While any travel magazine or website may provide a generic insight into this place, here's a local's report of her hometown!
1. Nepali Cuisine
People of Darjeeling pride themselves over the delectable local cuisine, which ranges from a full-fledged Nepali thali to the spiciest street food. An average Nepali thali comprises rice and dal along with an assortment of side dishes including sukuti (dried fish), sidra (another dried fish), gundruk (fermented saag) and the infamous kinema (fermented soya bean, which takes the nose some 'getting-used-to').
However, as always, the street food is the real showstopper! Although in the pan-Indian scene, the momo has overshadowed its eminence, Darjeeling's famous aloo-dum, is a local favourite! Obviously the Indian favourite – momo, has its origins in this quaint little town. But beware! The momo-mayo combination here is not only unheard of but, close to blasphemy.
Then there's the sel-roti (a type of bread which you have to try to know what it is), phaley (Tibetan bread), thukpa (noodles in soup) and so much more waiting for you in Darjeeling.
I could ramble on all day about the local food, but I have a list to complete!
2. Music in the city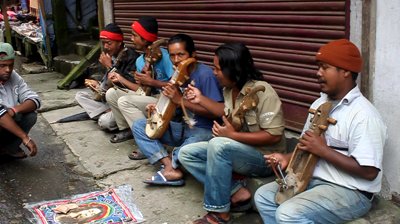 We are a music-loving lot!
Although the Darjeeling carnival happens in winter, music performances on the streets are not uncommon here. And if you're lucky, you may witness a 'saarangi' performance as well. A 'saarangi' is a local instrument, somewhat like a violin but with a very distinct sound. For all the rock and jazz lovers, there are many pubs with local bands performing live music lining the streets. A lot of musical talent erupts from here, and you have to be here to soak in the glorious ambiance.
3. For the Adventure-Junkies!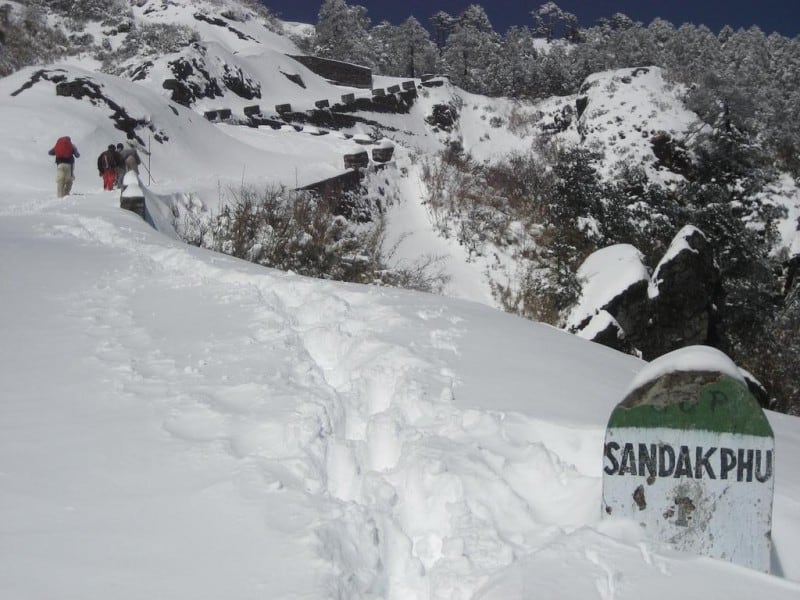 To kill the mundane, an adventure seeker should definitely visit Darjeeling! The local Himalayan Mountaineering Institute offers courses on rock-climbing and conducts expeditions to Sandakphu, a nearby village which has the shortest aerial distance from Mt. Everest. Apart from that, one can hike to nearby places including – Tiger Hill where you can witness the most beautiful sunrises. Bikes can also be hired to soar along remote roads rich in landscape and one can also paraglide over town. For lesser adventurous individuals, a morning jog around the scenic Mall Road may also prove a memorable experience.
4. Shopping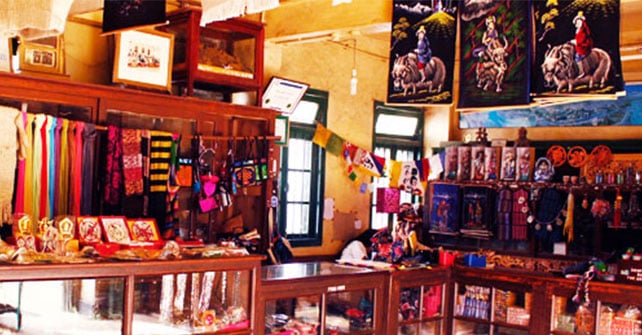 Tourists often pick up mementos to take back home in order to reminisce their eventful vacation and luckily, Darjeeling abounds in such knick-knacks. The curio-shops here are veritable treasure houses where one can scavenge everything from – Tibetan Masks, jewelry, gems, traditional attire to the infamous weapon of the Gorkhas- the khukuri! On the hand, art or any handicraft enthusiast should definitely take home a 'thanka,' a valuable scroll painting depicting Buddhist gods.
5. The people
But what is a town without its people? Needless to say, in keeping with the vibrancy of the town, its inhabitants are equally as friendly and welcoming. Striking up a conversation with locals at pubs or at Chowrasta (a meeting place of sorts) couldn't be easier and proves rather helpful to the enthusiastic traveler.
The people are the real gems here, and it is they who can guide you to the best bakery in town or the cheapest haunt for local 'daaru' (it's called 'tongba').
Lastly, in case you couldn't keep up with the entire local lingo that this article abounds in then, that is just one more reason for you to visit Darjeeling this summer!
Swareena Gurung