Cluster Innovation Centre (CIC) faced a severe fund crunch as the year 2019 came to an end due to limited resources which also affected the recruitment of new staff. 
Cluster Innovation Centre (CIC), established in 2011, gave students an opportunity to envision a trans-disciplinary approach. CIC offers three courses:  B.Tech and Mathematical innovation, M.Sc in Mathematical Education and B.A. in Humanities and Social Science. These courses are uniquely designed for students to work on several projects with an aim to offer constructive solutions to problems faced by people in real life.
Professor Yogesh Tyagi was appointed as the new Vice Chancellor of the University of Delhi (DU) in 2016 and according to the students and the Faculty, the functioning of the centre changed completely. With a cap of INR 15000, students were asked to go through a lengthy Government e- marketplace (GEM) procedure. The new regulations imposed within CIC are hampering the projects of students. Many students complained about having to negotiate for items on GEM, and if the items were not available, the students were not left with many alternatives to turn to.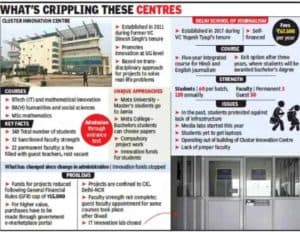 Image Credits: The Times of India
Students mentioned various other problems that they had to face when the new regulations were introduced in CIC after Dinesh Singh's tenure ended as the Vice Chancellor. Although, there are no serious constraints on funds for humanities projects, the other two courses may require some modifications. CIC projects are solely based in Delhi-NCR which may overlook real issues faced by people outside the targeted area.
Former CIC Director, M. Chaturvedi had previously commented on CIC's dire need for growth and modification in the curriculum. He had added that the projects formulated by students could help the centre in earning a considerable amount of revenue. With a fund crunch, students and staff in solidarity believe that modifications within the centre must be introduced. However, there has been no official word from the officials of the University regarding this issue.
Feature Image Credits- DU Beat Archives
Suhani Malhotra