While taking a stroll around a locality or a campus, we generally look around for a food joint or a daily needs shops, but we sometimes ignore the shops with posters of Zayn Malik, Justin Bieber, David Beckham or Honey Singh.
Being an Indian man, I was told from my childhood that men are always supposed to have short hair. The situation has changed, and Indian men are now more concerned about their hairstyles, evident from them checking it out every other minute or just being concerned about how their hair looks every second of the day. Whether you are going for a classic side part or a crazy hairstyle, hair needs constant maintenance and the occasional touch of an expert. There are Barbershops that can give you a haircut for as cheap as 50 INR, but very few actually choose these kinds of places, maybe because these are for men only or because they might not be as good as a 'Professional Salon'.
Here are some tips for you to get an amazing haircut, even from a barbershop!
Keep realistic photos of yourself handy
Most of the barbers that you will encounter possess the same, or even better skill set as compared to your so-called "professionals". They might not be accustomed to the terms that you might use like mohawk, sideburn, step cut etc. but they do have the potential to execute them. Keep a photo of the haircut you desire handy and even better if you keep a realistic photo of yourself and not a google one because it would help with their understanding of the photos are provided in multiple angles.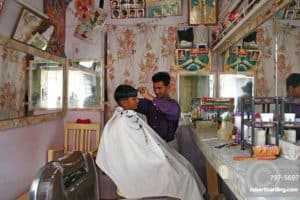 Talk to him with patience
Local barbers are used to attending customers that don't really know what they want and just want the job done fast. That's why they don't discuss the haircut and discuss other random topics like politics or neighbourhood gossip. If you just ask them to wait before the haircut and explain to them exactly what you want, there would be no communication gap and you would get the desired results. If you leave the things in their hand, you might not get the desired results, because their understanding of a desirable haircut might be different than yours
Zyaada chhote mat kaatna (Do not cut it too short)
Coming back to the type of customers they are used to attending, barbers are used to cutting hair really short. The simple solution is to tell them not to do so!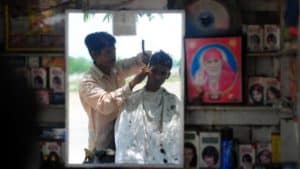 More expectations, more disappointment
At last, don't expect your first experience with a local barber to go so great, it might take some time for them to get used to your needs and it might take some time for you to get used to communicating or choosing the better one from your locality but it is worth the effort for all the money and hassle you save! Also, Local barbers do not really use a lot of products and just keep the process simple, so it is beneficial for your hair as well!
Good Luck!
Featured Image Credits: Pinterest
Akshat Arora