The annual cultural fest of Delhi University- Antardhwani 2014 concluded on Sunday, 16th February after cultural events, performances and showcase of academic and cultural achievements by different colleges. The much awaited ceremony Valedictory Funnction for giving awards of Good Practices was the final event of the three day fest which took place in the presence of eminent kathak dancer and choreographer Smt. Sharmishta Mukherjee, the Guest of Honour for the event.
In the category of departments, Geology won the first prize worth Rs. 10 lakh, the second prize worth Rs 7 lakh went to Geography and the third to Botany worth 5 lakh. The departments of Bio-Chemistry, Chemistry, Cluster Innovation Centre, Physics and Zoology also won commendation awards of Rs. 1 lakh each.
The Good Practices award in the category of colleges were given to Lady Irwin College as first, Maharaja Agrasen College as second followed by Acharya Narendra Dev Colleges as third. Bharti College, Kamala Nehru College, Lady Shri Ram College for Women, Ramanujan College and Sri Venkateswara College won the five commendation awards in this category. The jury made a special note of all the innovative ways adapted by different colleges to implement FYUP and the impact of the projects in empowering the marginalized sections of the society.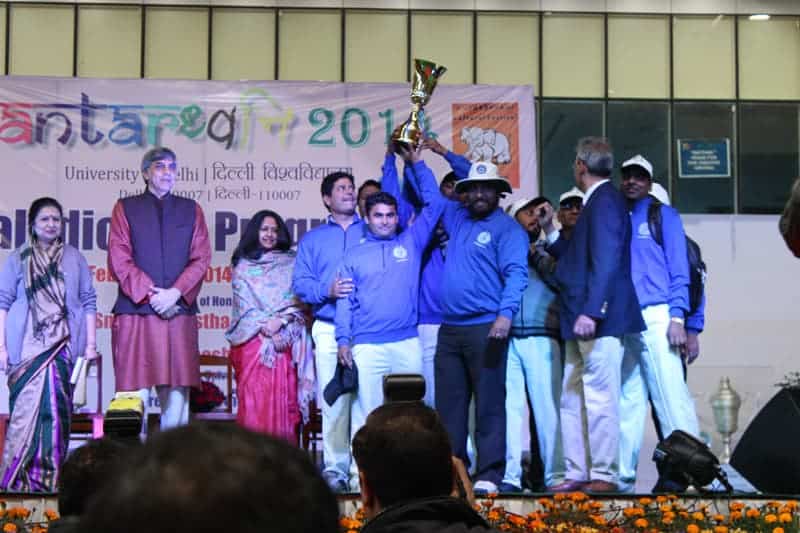 A friendly cricket match also took place between the Vice Chanceloor's XI and the Principal's XI eventually won by the Principal's XI led by Dr. Sunil Sondhi, Principal, Maharaja Agrasen College. The Sound and Light show-"Delhi University: A Legend" was attended by the Guest of Honour who also applauded the talent displayed at Antardhwani. She also congratulated the Vice Chancellor in harmonizing higher education and culture together at DU.
Featured Image Credit: Parandeep Goswami