Former Foreign Minister of India, Late Shrimati Sushma Swaraj passed away last night at AIIMS, Delhi. A true leader and people's person through her words, deeds and actions, the nation mourns at the loss of one of the ladies of firsts and one of the finest parliamentarians in the history of India.
As a young adult, I found inspiration in the only a handful of people, most of the time the ones who did not fit into the watertight compartments of the 'ideal inspiration' or the 'ideal role model'.
And one of them had to be Madam Swaraj.
It wouldn't be wrong to call her the Iron Lady of India- the woman who had been a path-breaking revolutionary woman in the turf of Indian Politics; a field with massive male dominance.
She had been a woman who wrote and redefined history, one moment at a time, with grace and grit. Her untimely demise is indeed the death of an era of contemporary Indian politics.
*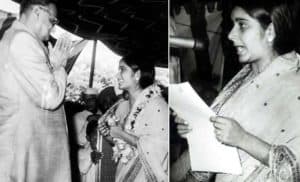 Sushma Swaraj being sworn in as the youngest cabinet minister in the history of India
Dearest Madam Sushma Swaraj,
Your name will be etched in gold and remembered throughout ages, dear Ma'am. I am so heartbroken, shook and grieved by your untimely death.
Your death is such a grave loss and it's so heartbreaking. I simply cannot come with terms to accept the fact that you are no more. Truly a people's politician, you gave new standards of viewing Parliamentarians with hope and the will that there are still people who won't let the populace of the nation down.
You are that one person who made me realise how women have the highest potentials in themselves to carve out their own space and respect in the highly male-dominant politics of India. You shifted grounds and were the proud owner of indeed many a 'firsts' in the history of India- be it right from being the first female Chief Minister of the power centre of India to the first full time woman foreign minister of India- loved across the face of the earth for your wisdom, wit and words.
You stood as the tallest example, inspiring and giving courage to so many young Indian women to venture into Indian Politics and view it with a fresh vision as one of the noblest ways of serving the society, truly enough, one person at a time.
You changed the definition of a politician and parliamentarian for all. Breaking away from the stereotypical image of the pot-bellied 'netas' who spend their lives in air-conditioned bungalows, away from the ground realities, you made people realize how accessible, warm and homely they can feel even if they are far away from home and have a guiding light to take them back.
And when you said, that you would even rescue if any Indian was stranded on Mars, in all honesty, the world believed your power and glory, in all senses.
You gave power and made the Ministry of External Affairs reach great heights across all spheres be it the immense humanity displayed to people of any and every nation to the strong Indian diplomacy which shook grounds and redefined the sphere of contemporary international relations.
You had been a lioness, a lady of firsts, strong, bold and one of the finest persons of Indian politics. Keeping up with the times, you left no stone unturned in reaching out to people- the social media platform Twitter being the greatest advocate of both sides of you-humane and humour.
You gave hope to thousands of young, ambitious women that at the end of the day, against all odds, a woman is as capable as a man to carve her own identity with her own achievements.
You made thousands of young, ambitious girls realise that one need not be associated with a man's identity in order to be known in the public sphere.
You made thousands of young, ambitious girls realise that a woman's identity is not defined solely by her gender, but by her actions, words and achievements.
You were, are and will forevermore be counted amongst the best faces our motherland had been blessed with to serve this nation, until the last breath.
We have lost a gem, a heroine and one of India's greatest daughters today.
Dear Madam Swaraj, bless this nation of yours from the highest peaks of heaven above.
Image Credits- Zee News
Amrashree Mishra