From celebrity promotions, marches and protests to crimes against students, winners at international competitions and struggles to maintain funding, University of Delhi has seen a rollercoaster year. We bring you some of the highlights from this year.
The Worst: 
August 2018
Image Credits: India Today Social
Dead Body Found Outside Khalsa College
On 5th August 2018, a dead body with its head and hands chopped off was found outside Sri Guru Tegh Bahadur College at 8 a.m. The police predicted the corpse to be of a 30-year-old male.
Further Reading: https://dubeat.com/2018/08/dead-body-found-outside-khalsa-college/

Image Credits: DU Beat archives
Hunger Strike Organised By MPhil and PhD Students
A hunger strike took place on 1st August 2018 in the Arts Faculty of Delhi University. The protest was against the modifications in the M.Phil and PhD admission procedure, demands against the enforcement of the University Grants Commission's Ordinance VI by DU were put forth.
Further Reading: https://dubeat.com/2018/08/hunger-strike-organised-by-mphil-and-phd-aspirants-at-arts-faculty-against-admission-process/

Image Credits: Maharaja Agrasen College
Maharaja Agrasen College Website Hacked and 'Pakistan Zindabad' Displayed
On 3rd August 2018, the website of Maharaja Agrasen College was hacked for three hours. Everyone, including the students, faculty, and the college administration were left in a state of shock by this development. The photograph of the college on the website was replaced with a photograph of stone-pelters. The hackers not only uploaded a photograph of Pakistan's national flag but also wrote 'Pakistan Zindabad'.
Further Reading: https://dubeat.com/2018/08/hackers-write-pakistan-zindabad-on-maharaja-agrasens-website/
September 2018
Delhi University Student Jumped Out of Bus to Escape Molesters
On 30th September 2018, a 19-year-old Delhi University student jumped out of a DTC bus to escape her molesters after months of continued abuse. The victim's sister had shared the ordeal in detail, in a series of tweets.
Further Reading: https://dubeat.com/2018/09/delhi-university-student-jumps-out-of-moving-bus-to-escape-molesters/
November 2018

Image Credits: DSJ Media Group
DSJ Students Moaned on the Untimely Demise of Their First President
In a road accident that occurred on 4th November 2018, Prashant Yadav, a student of Delhi School of Journalism (DSJ) lost his life. On 6th November 2018, which was his 20th birthday, a public condolence meeting was organised by the students DSJ at the Faculty of Arts at 4 p.m. The students paid tribute to Prashant Yadav, who was considered the backbone of the "Stand with DSJ" movement.
Further Reading: https://dubeat.com/2018/11/dsj-students-remember-their-first-president/
December 2018

Image Credits: Delhi School of Economics
Phone Snatching Escalated to Stabbing
A PhD student of Delhi School of Economics was attacked by unidentified phone snatchers on 2nd December 2018. The incident took place late night at the Naala Bridge at Patel Chest Institute, North Campus, which is in close vicinity of Maurice Nagar Police Station, New Delhi. A robbing attempt by bike ridden perpetrators escalated into violence, and the victim was stabbed in the back multiple times, with a knife.
Further Reading: https://dubeat.com/2018/12/phone-snatching-escalates-to-stabbing/
January 2019

 Image Credits – DU Beat archives
Gun Pulled Out in Broad Daylight at CVS
A gun was allegedly pulled out during an altercation between some students at the College of Vocational Studies on 28th January 2019 around 1:30 p.m. The police had to be called to control the situation. Our source informed us that two third-year students are said to be involved. The gun was pointed to the Central Councillor of the college union.
Further Reading: https://dubeat.com/2019/02/gun-pulled-out-at-cvs-campus-in-broad-daylight/
March 2019

Image Credits: Niharika Dabral for DU Beat
DU's Proposal for Funds Rejected by MHRD
A proposal put forward by the Delhi University Administration for Rs 5000 crore for the construction of a few buildings for the use by the University was struck down by the Ministry of Human Resource Development.  The issue of funds crunch was raised by the DU administration at various platforms, but the money that it had already was not spent by it and was returned to the University Grants Commission.
Further Reading: https://dubeat.com/2019/03/dus-proposal-for-seeking-funds-rejected-by-mhrd/

Image Credits: M.Sc Mathematics Department, DU
Mass Failure in DU: M.Sc and Other Departments Organised Press Conference
The M.Sc. Mathematics Department, as well as other departments, organised a press conference as a result of the poor administrations and blunders made by several departments in the evaluation of papers. More than 90% of failing patterns were drawn up from various departments. The rechecking and revaluation processes accumulated 3.18 crores in the past three years.
Further Reading: https://dubeat.com/2019/03/mass-failure-in-du-m-sc-mathematics-and-other-departments-organise-a-press-conference/
April 2019

Image Credits: Niharika Dabral for DU Beat 
Delhi Government Stopped Funding of 28 Colleges
Owing to failure in the constitution of their governing bodies by Delhi University (DU), Delhi Government stopped funds to 28 DU colleges. Manish Sisodia directed the Finance Department to stop the funds, which amount to INR 360 crore annually, over what he termed the "deliberate and mala fide attempt to delay formation of governing bodies". He believed that with no governing bodies, there was no way to keep an eye on the colleges' functioning.
Further Reading: https://dubeat.com/2019/04/delhi-government-stops-funding-of-28-du-colleges/
The Best
September 2018
NSIT Granted University Status
After a long period of 2.5 years, the central government finally approved to grant University status to Netaji Subhash Institute of Technology (NSIT) on 27th September 2018. Now running as a university, NSUT has the autonomy to revise curriculum, create its own Academic Council, and fast-track administrative decisions. The University will remain answerable to the University
Grants Commission.
Further Reading: https://dubeat.com/2018/09/nsit-granted-university-status/
October 2018
Delhi University Graduate Nishtha Dudeja Won Miss Deaf Asia 2018
Nishtha Dudeja, a twenty-three-year-old commerce graduate from Delhi University, won the Miss Deaf Asia 2018 title, being the first ever Indian to have won any title at the Miss Deaf World Pageant. The pageant held its eighteenth edition recently at Prague, Czech Republic.
Further Reading: https://dubeat.com/2018/10/delhi-university-graduate-nishtha-dudeja-wins-miss-deaf-asia-2018-title/
October 2018
 Image Credits: Mahi Panchal for DU Beat
The All-Night Protest Staged by Pinjra Tod
Starting at four in the evening, members of Pinjra Tod gathered at Faculty of Arts on 8th October 2018 with several self-made posters displaying messages like 'LSD- Lockup, Safety, Dhoka' and 'Tod do taale' (break the locks) to stage a protest against privatisation of education, accessibility, and equitable education.
Further Reading: https://dubeat.com/2018/10/lsd-lockup-safety-and-dhoka-inside-pinjra-tods-all-night-protest/
DU Colleges Dominated the Enactus World Water Race
Six out of the top 12 and three out of the top four projects shortlisted for the World Water Race belonged to India, more specifically the University of Delhi. The Enactus World Cup was held from 9th to 11th October. World Water Race is a competition that recognises and mobilises Enactus teams and their projects tackling the water and sanitation crisis.
FurtherReading: https://dubeat.com/2018/10/india-dominates-the-enactus-world-water-race-six-out-of-12-projects-belong-to-du/
DU Alumna Appointed Chief Economist of IMF
Dr Gopinath is a B.A. (Hons.) Economics graduate from Lady Shri Ram College for Women, who later pursued a Masters in Economics from Delhi School of Economics. She was the John Zwaanstra Professor of International Studies and Economics at Harvard University, then appointed as the Chief Economist at the International Monetary Fund (IMF). She succeeded Maurice Obstfeld.
Further Reading: https://dubeat.com/2018/10/du-alumna-appointed-chief-economist-at-imf/
December 2018
DSJ Students Table Their Grievances Before Former President
Despite a slew of vociferous protests and agitations by the students of DSJ, most of the promises touted by the administration were never fulfilled. Intending to bring the protracted tussle between the students and the DSJ administration to a close, Mohammad Ali, a DSJ student and NSUI youth politician, submitted a petition to Pranab Mukherjee and Kapil Sibal.
Further Reading: https://dubeat.com/2018/12/dsj-students-table-their-grievances-before-the-former-president-and-kapil-sibal/
January 2019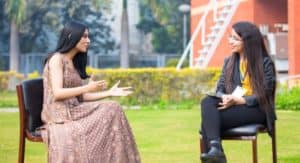 Image Credits- Akarsh Mathur for DU Beat
In Conversation with Amrita Rao
On 23rd January 2019, Amrita Rao got candid with DU Beat about her life, career, and the industry, when she visited Conference Centre, North Campus along with her co-star Nawazuddin Siddiqui to promote their film 'Thackeray'.
Further Reading: https://dubeat.com/2019/02/a-tete-a-tete-with-amrita-rao/
February 2019

Image Credits: Tribhuvan Tiwari for DU Beat
Increased Seats for Economically Weaker Sections
The DU administration decided to implement and increase the economically weaker section (EWS) quota by 25%, leading to 6550 more seats across all colleges. This plan shall see that the new academic year will have 6550 more seats for undergraduate and postgraduate courses.
FurtherReading:https://dubeat.com/2019/02/increased-seats-for-economically-weaker-sections/
March 2019

Image Credits: Odisha News Tonight
Miranda House's New Principal Takes the Seat
After successful completion of Dr Pratibha Jolly's tenure as Miranda House's Principal, Dr Bijayalaxmi Nanda takes the seat. A professor of Political Science and Gender Studies in the College, holds a Master of Arts (MA) degree, a Master of Philosophy degree from Delhi University and a Doctor of Philosophy (PhD) from Jawaharlal Nehru University (JNU).
Further Reading: https://dubeat.com/2019/03/miranda-house-appoints-new-principal/
April 2019

Image Credits: Pragati Thapa for DU Beat
Student Groups, Women from DU and Across the Country Marched for Change
On  4th April 2019, women across all ages, religions and social classes came together to voice their collective dissent against the current government and their propagation of a politics of violence and hatred. Prominent student groups present in the march were members of  Pinjra Tod, Women Development Cells of Lady Shri Ram College, Indraprastha College and Miranda House. Students expressed concerns regarding women's representation in politics, condition of minorities, etc.
Further Reading: https://dubeat.com/2019/04/women-march-for-change/
Feature Image Credits: Mahi Panchal for DU Beat
Prachi Mehra