Extraness is a prized practice, and nothing gives you wings, not even Red Bull, as does a finsta account.
All tales that make sense will tell you this: nothing is as sweet as liberty. Simply because it allows you to be yourself. Social media is highly glitzy and glamorous, and the epitome of all elitism  seemingly reflects on Instagram. And in all that is glitter, the most promising gold is a finsta account. In the aesthetics and outfit of the day posts, a finsta account is really a wild, wild country of your own. The 'close friends' list was definitely helpful, but it is another thing to have a close friends list on your finsta.
Nowadays, connectivity is supplemented by the exchange of Instagram handles. As a result, in a sea of 'followers' and an ocean of 'following', the users are left to fend for personal glory, presenting the most refined moments of their life. It makes no matter to most, but as many of us shying sheep will agree, self-consciousness and number of followers are directly related. Quality of the followers, factors in secondarily. For instance, if you have a lot of followers from a serious organisation you once interned with, you are likely to be more hesitant before you post a picture of yourself in your truer, and crazier element.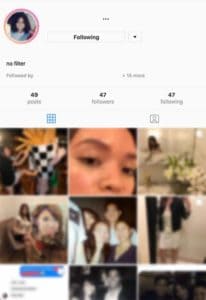 "Analysing my Instagram feed made me realise that despite its aesthetic, it did not suffice to please me. It felt strangely mechanical. It was then that I opened my new account. And although I initially started posting (or spamming) my crazy pictures, 15 posts later, it felt truly liberating. That I could share my crazy days with my own select few crazy people, and not be judged about having fun, that truly felt just the opposite of mechanical." said a third year student of literature from Hansraj College.
Many people would argue that our need to create a finsta account is really derived from an unhealthy habit of self-criticism and consciousness. Consciousness is really derived from the deeply internalised sense of insecurity that we have been made to feel, by the regression of our surroundings. After a while, it just becomes a part of you, this insecurity and uncertainty about your self. You do not wish to seem too eager, or too enthusiastic, or too pretentious. All our social insecurities are put to test in a space that allegedly aims to 'connect'.
Undeniably, every post on social media is subjected to discussions. But the consciousness that hogs our decision-making, that shadows our identities, it becomes a challenge. And though this problematic obligation to present the best on social media is worth our concern, it is irrefutable that finsta accounts have offered a wondrous respite.
It is as Avnika Chhikara, a student of literature from Maitreyi College says, "The way I see it, your finsta is a state of mind. It's your own aesthetic. There are good, bad, terrible photos and videos. Where would they go, if not for others to get 'spammed'?" Having said this, and being a pro at suggesting the best hacks, Avnika owns the idea of finsta when she says, "I say replace finsta with the first letter of your name and there you go, personalized to your taste."
So get on with it. Embrace that wild side. Channelise your inner wild/philosophical/ditzy self, and rule the spam, because being extra is not everyone's cup of tea.
Feature Image Credits: Study breaks magazine
Kartik Chauhan