27th March is universally celebrated as World Theatre Day. Considering how the city of Delhi has always been a theatre hotbed, we look back at a few theatrical moments chosen at random from last year, showing how the life of theatre actors can be as dramatic as the plays in which they act.
Act 1- Going Solo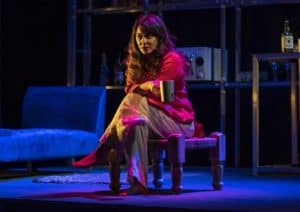 Minissha Lamba in Mirror Mirror, at Miranda House.
Theatre, like any art form gets shaped and re-shaped in various ways. In that view, one trending phenomenon in the theatre circuit these days is the rise of the 'one man/woman play'. Imagine having an intimate tete-a-tete with just one person from the stage, getting all dramatic with you and his/her own personal demons. There aren't many fancy twists and turns, light and stage tricks. Just some raw and real emotion.
Recently, Aswhath Bhatt, for instance, drew crowds 'cosplaying' as Sadat Manto on stage and speaking the iconic writer's lines in his own improvised manner. Aptly titled Ek Mulaqat Manto Se, Bhatt has had fame playing minor character roles in Bollywood films like Haider and Raazi. While he might not be a mainstream heartthrob (hardly any theatre actor is one in this country) but his Manto-based play drew popularity the last year with Bhatt even performing his one-man skit at Nepal!
The India Habitat Centre saw another play on similar lines called Tanashah, a one-man dance theatre piece by Navtej Johar acting out the prison diaries of Bhagat Singh. Drifting away from history, I witnessed a memorable one-woman play some time back, at Miranda House.
You might have heard Minissha Lamba's name attached to some Bollywood movie while the teens of this generation were growing up. She even was famous for being a Bigg Boss contestant (usually people are infamous for that)! However, her debut at theatre came with an AGP production called Mirror Mirror, a psychological thriller where she portrays a pair of twin sisters.
Supported with voice overs and dramatic lighting, Lamba proved to be compelling enough channelling her inner madness. There was a lot of over-acting in the play but it was the right kind of over-acting, enough to draw earnest applause.
Maybe, Lamba's tryst with theatre might mean she has more acting chops on the stage rather than film, as Bhatt's case was mentioned earlier. Maybe, that's the magic of theatre.
Act 2- Off stage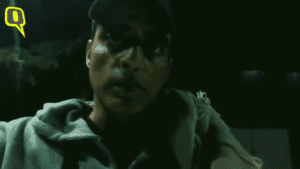 Ashwath Bhatt's video from Jaipur, in which he expresses his frustration at how artists are to face trouble because of a few intolerant elements.
The part before was the intro, the good part. Now again, we will jump to one of the protagonists of this article, Aswhath Bhatt. It was early on this year that he was in Jaipur to perform one of his plays, a Kashmir themed piece titled Eidgah ke Jinnat. It's quite unfortunate how the very word 'Kashmir' evokes pessimism in the minds of many an Indian. This time, too Bhatt's journey in Rajasthan was met by the same brand of Kashmiri pessimism.
The Abhishek Majumdar directed play, talks about two orphans growing up in a radicalised, war torn Kashmir. The current state of this Indian state which this play mentions, is common knowledge.
However, the Hindi daily Dainik Bhaskar went on to say this play shows the Indian army as a torturous force. This was an exaggeration and a clear case of Jingostani media. And the comes our public which gets easily influenced what they read.
The first performance of this play went smoothly however, the planned encore performance never happened. The national mainstream came to know about this through a grimness evoking, dimly lit video recorded by Bhatt himself.
It turns out that a 'mob frenzy' for the ban of the play, took place at Jawahar Lal Kendra, the designated venue.
'It was fine till it was a protest. But what happened here was clearly more than a protest. I don't know as an artist where I should go now.' This is one of the snippets from Bhatt's video. Sounding chillingly similar to Manto, Bhatt added 'If I have done anything wrong, bring me to court. I will answer myself at court then'.
This brings out an important question in lieu of artists in India. Our country deserves good artists but do good artists deserve this country?
Act 3- Separating the art from the artist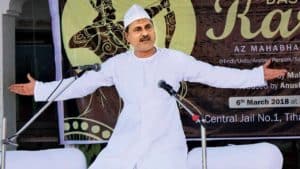 Mahmood Farooqi is a great theatre artist but his recent acquittal from the court of law makes us raise questions at his personality.
Hindu College in its literary fest were intent on inviting a famous Dastangoi team (dastangoi is an old form of Urdu storytelling which has been reborn in Delhi theatre) founded by Mahmoud Farooqi. Farooqi, a towering figure in the circuit, was however coming to perform a remembrance for the late Ankit Chaddha, former Ibtida president. For those unacquainted with societies of the University of Delhi, Ibtida is a leading dramatics society from Hindu College.
However, as it turned out, the performance never happened.
Farooqi is an interesting man to be judged as a person. News reports online can tell you in detail on how initially, he was alleged in rape case involving an American scholar.
The scholar was friends with Farooqi from before but things went awry when she alleged him to have had forced oral sex with her without her consent. Soon, a fast track court sentenced the theatre stalwart to seven years prison time. But unlike other such cases of violating consent, this case had several grey areas.
This can be understood on how the Delhi High Court acquitted Farooqi. It was found out that both were involved in consensual sexual relations previously. Still, previous relationships don't indicate that you still have the right to do anything without consent. Any layperson can know that. This case however put the public in intellectual exhaust as we don't know if the victim's claims are true or not.
If Farooqi is innocent indeed, then the court's judgement comes as a breather. Otherwise, it is another judicial failure where consent was not respected.
What is irksome is however the closing lines of the third act of this real-life drama, lines from the judgement:'Sometimes, a feeble no can mean a yes.' How problematic this quote is, it needs no explaining.
Urvi Sikri, a student from Hindu College adds, 'Someone with his social capital getting acquitted that too with this problematic judgement really raises questions. I did not feel comfortable the least having this man in the Hindu College auditorium…'.
Featured Image Credits: Shaurya Singh Thapa for DU Beat, India Habitat Centre, The Quint, and NDTV.
Shaurya Singh Thapa
[email protected]