The M.Sc. Mathematics Department as well as other departments organised a press conference as a result of the poor administrations and blunders made by several departments in evaluation of papers.
Students held a press conference, on 19th March, to release a dossier on the issue of mass failures and abnormal marking in many departments of the University of Delhi (DU) since a long time. This is a new development in the much bigger issue which has been going on since February this year when the students went on protest.
The dossier included data and facts depicting how from the last 10 to 15 years a pattern of failing almost up to 90% of the students and those who do manage to pass, do so by barely reaching the passing percentage.
The press release talked about Non-Collegiate Women's Education Board's (NCWEB) failure rate being 97%. In Mathematics Department, 150 out of 300 first-year students failed, 34 out of 39 students failed in Computational Fluid Dynamics exam, 80% students failed to complete the course in the two years, many have fallen into depression and even attempted to commit suicide. In the first-year, M.Sc. Physics Department in 2018, 94% of students have failed in internal or final exams.
It further analysed how in the process of revaluation and re-checking, a total of 3.18 crore have been accumulated by the administration in the past 3 academic years. The students in the press conference laid bare a trend among professors to only allow a few students to pass to enroll in master's programme.
An anonymous student from M.Sc. Physics Department commented, "There are majorly two problems that we are facing, firstly, we need to have supplementary papers because right now if a student fails, he will have to wait for six months to give the exam. Secondly, we are asked to pay RS 1000 for revaluation, with this pattern of marking, at least this fee should be reduced as students are not from the same economic background."
He also went ahead and talked about some of the students who have been trying to complete this two-year programme for the past four years.
The data also includes the story of Yash, a student who got AIR 31 for Hyderabad University, selected for IISER Bhopal and Mohali, AIR 23 for M.Sc. Physics in DU. In his report, he not only attached all documents of proof but also talked about choosing DU over any other University, given its name. He failed in several attempts and finally decided to give up his Masters. Other students also questioned the department on how their capabilities are reduced in these exams despite clearing the entrance or other examinations.
This issue falls under the purview of the Dean of Examinations who even after two meetings has denied all demands. While an extension to the revaluation date was given, the solution was tokenistic as the fee was not reduced and the same teachers would be rechecking the papers. Furthermore, students also received show-cause notice by their proctor, demanding an immediate reply. The administration did not respond to their ultimatum of 15th March and three students publicly withdrew their admission from the University.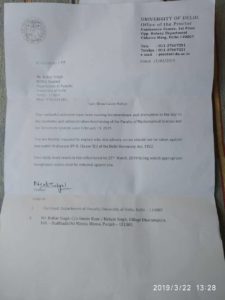 Prabal, a student of M.Sc. Mathematics commented, "This is an institutional and systematic failure. Sciences have been facing this problem for many years, we released the data to the press but to no avail. We want a solution to this institutional crisis, if a mechanism can be built and introspection can be done, that is the larger issue we want solved."
On 22nd March, these students sent a delegation with an application to the office of the Dean of Examination regarding this issue. While the protest has been suspended due to the mid-semester break in DU, it will be resumed from the 25th March with full momentum. They have been pressing on the same demands of revaluation, setting up of external checking board and investigation committee, students being allowed to see their papers and thus greater transparency, and reduction of revaluation fee among others.
Another student of the Physics department, on the condition of anonymity, stated, "Paying the fee is expensive, going to court is even more costly, what option remains is to speak to the administration, but they have refused to even acknowledge us. The Vice Chancellor has not responded, with this I feel change is just a far-fetched dream. All I want is for them to listen to us."
Shivani Dadhwal