We are celebrating our 70th Independence Day in a time when terms like 'independence' and 'azaadi' have become stigmatised. Our public discourse has been simmering with vivid debates about loyalty, freedom, and jingoism, and from the JNU row  to the recent Ramjas College protests, we can identify that it is from the epicentre of universities that narratives of nationalism have been (and are being) shaped. As a college student for the past one year, I was directly exposed to new ideas on a daily basis. After hours of contemplating over them, I've discovered that I'm an anti national.
The many meanings of patriotism
When I say that I'm an anti national, it doesn't mean I do not harbour love for my country. It's just that my idea of what constitutes patriotism is different from the version portrayed in popular media. As Abhinandan Sekhri puts it, "Patriotism is not something that can be easily universally defined even by the most eloquent and evolved minds." For some it is an expansive love for the territory of the nation, the laughter of its people, and their languages. For others it is an idea that is so narrow and flimsy that merely singing the national anthem is considered nationalism and attacking someone who does not stand for it in a cinema hall is considered an act of nationalistic passion. Whatever your idea of nationalism may be, the notion that there can be only one concept of what constitutes a nation, and that every other view is anti national, is intellectually void at best and authoritarian at worst.
For me personally, a nation is a free society where someone's right to dissent is not questioned by those who disagree with them. Today when Gurmehar Kaur is trolled for espousing peace, and college plays are being censored because they talk about Indian insurgencies, it makes me wonder what people would call Ambedkar, whom the so-called nationalists are eager to appropriate when he supported the demand for plebiscite in Kashmir. What should we call Ambedkar then? Anti national?
Or for that matter, Gandhi, who in his meeting with a Naga delegation in 1947 said, "You can be independent. You are safe as far as India is concerned. India has shed her blood for freedom. Is she going to deprive others of their freedom? Personally, I believe you all belong to India. But if you say you don't, no one can force you."  What do we call such a thought? Seditious?
Appropriating the Army
These days when the sacrifices of the armed forces are revoked at every instance and TV news panels have given space to retired officers, there is one observation that I would like to point out. Contrary to what prime-time news would like you to believe, there are armed forces personnel who don't consider critique of the army as seditious.
When Major General G.D. Bakshi vehemently advocated that JNU students be booked under sedition, Admiral Ramdas (Vir Chakra awardee) and Retd. Colonel Laxmeshwar Mishra supported the students at JNU and espoused that sedition has no place in a democracy. In April when Major Gaurav Arya, now a prominent face on Indian television, was lauding the army for tying Kashmiri youth to an army jeep as a human shield, Param Vishisht Seva Medal awardee Lieutenant General H. S. Panag condemned that very act. I wonder if that makes these men anti-national.
The reason I'm making these comparisons is because even within the armed forces there are differences of opinion. Situations develop into problems when only one person is touted as the sole representative of the armed forces.
Soldiers are not holy cows
As students of social sciences, we all know that history is an important discipline and that our today is a product of our past. So, I would like to go back a little bit and talk about 15th June 2004 when 12 elderly women in Imphal stood naked behind banners proclaiming, "Indian Army, rape us" as a protest over the killing of Manorama. I would also like to mention 2nd November 2000 when  Sinam Chandramani, a National Bravery Award winner, was killed alongside 10 other people when Assam Rifles personnel opened fire at Malom village in Manipur.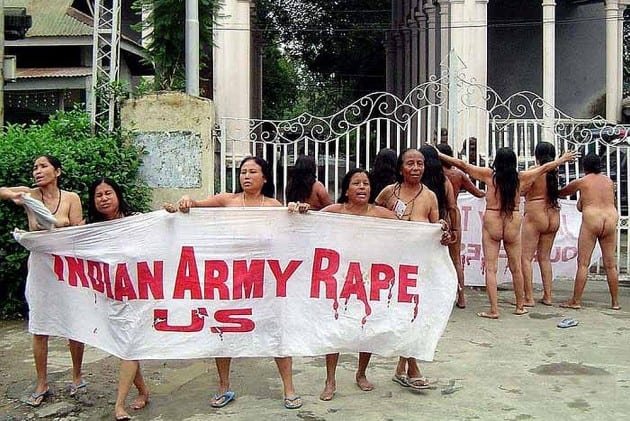 In these contexts, with these histories, would you not question the men in uniform? The accusations of human rights violations are not imaginations of "liberal-sickular-minds", but observations that the  Supreme Court itself has made.
In July 2013, the Santosh Hegde Commission highlighted the rampant misuse of the Armed Forces Special Powers Act (AFSPA) for fake encounters by the security forces in Manipur. Earlier in January 2013, the Justice Jeevan Reddy Committee had recommended the suspension of the Armed Forces Special Powers Act on account of being "too sketchy" and "inefficient". Other than this, the Justice Verma Committee also took cognise of the sexual harassment of local people by members of the armed forces.
By today's standard when many civilians regard soldiers as holy cows and accusing the armed forces of atrocities is equated with infidelity, the truth remains. In Barkha Dutt's words, "Sacrifices of the military, of which I am a huge admirer, have coexisted with unforgivable human rights violations of which we all must be outspoken critics."
Tank Man vs. Tanks
Now that the University of Delhi and Jawaharlal Nehru University have inaugurated the "Wall of Heroes", chances are that soon army tanks will also be installed in the campus to instill nationalism in students. I don't know how inspiring the tanks will be, but I know for sure that the picture of Tank Man, an unidentified person who stood in front of a column of tanks during the Tiananmen Square protests of 1989, is awe-inspiring. It teaches me to respect strength and not power.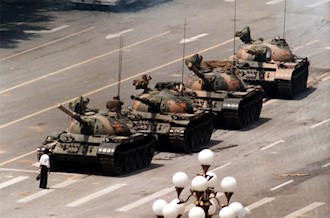 In 1908, Tagore wrote that  "It is my conviction that my countrymen will truly gain their India by fighting against the education which teaches them that a country is greater than the ideals of humanity." Even after 109 years, Tagore's words remain relevant. It's time we evaluate what we prioritise as a country – our nationalism or our humanity.
Feature Image Credits: Tsering Topgyal
Niharika Dabral
[email protected]