<![CDATA[
Runbhoomi is the annual four day sports extravaganza organized by College of Vocational Studies for BBE, BBS, BFIA and BMS students of Delhi University. This year, eight colleges participated to win the bragging rights for Best College. The fest started on 3rd March, with a vibrant and glorifying opening ceremony with Chief Guest as Mr. Vijender Khatri, a bodybuilder of international repute. The fest started gleefully with Ms. Akanksha, a teacher at CVS hitting the right notes with Shubham Gupta on the guitar. Zest, the dance society of CVS lit the stage on fire and wowed everyone in attendance.
 Sports such as Football, Futsal, Dodgeball, Volleyball, Cricket, Table Tennis, Chess, Athletics and Dance saw participation from all the colleges. The sportsman spirit was quite reflective in each of the participating team. They all played to have fun, they all played to win. The passion was evident in the matches. The Run was on. Zumba, organized by Transform Gym was the star-event of Runbhoomi'16. Everyone let loose their inhibitions and danced as if no one was watching.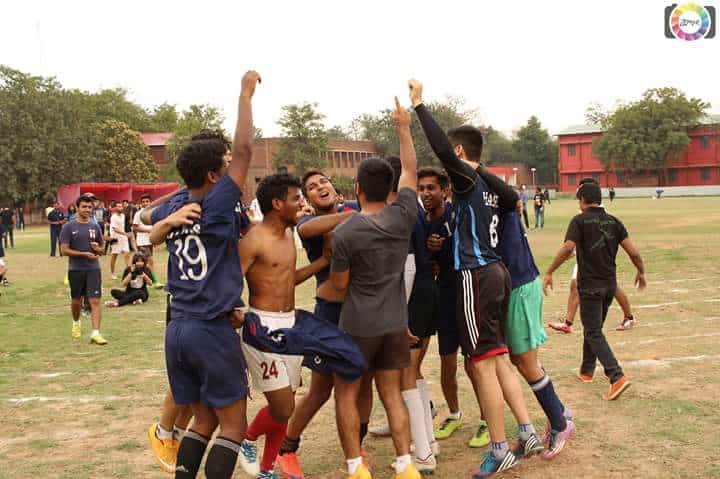 Taking a break from the grueling fixtures, all participants displayed great camaraderie.
IPL Bidding and a FIFA16 PS3 battle was organized under the Runneeti banner in which participation was open to all colleges and courses. Participants racked their brains to be called the best in strategy formulation and implementation. The last day was the most difficult with the constant threat of rain. The rain gods took a break to watch the amazing dance performances in the closing ceremony by CVS, MAC, ABC and SGTB College.
This year, Runbhoomi introduced a new award to encourage fairplay in field. SGTB Khalsa College won the "Runbhoomi Spirit of the Game award". The Best College award went to CVS after they won most of the events. Being the hosts, the rolling trophy passed to Maharaja Agarsen College who came second in the standings.
Guest Post by CVS for DU Beat
]]>