From Chris Rock's monologue about the lack of diversity in Hollywood to Leonardo DiCaprio winning the Oscar (can we say FINALLY?!), the 2016 Academy Awards certainly had several memorable moments which understandably sent the world wide web crazy- whether it be through the start of new memes, or the end of others (you know what I mean).
The Twitterverse once again proved itself as the place to be for anyone who wants an immediate explosion of a diverse range of reactions to whatever's going. We present to you some of the best and most popular tweets about the 2016 Oscars:
1. When Twitter loved Chris Rock's monologue about the lack of diversity in Hollywood:


2. Chrissy Teigen was the queen of audience reactions when Chris Rock brought out Stacy Dash, the actress who has criticized the Black Lives Matter movement and the Black History Month, who wished the audience… a happy Black History Month. Awkward much?!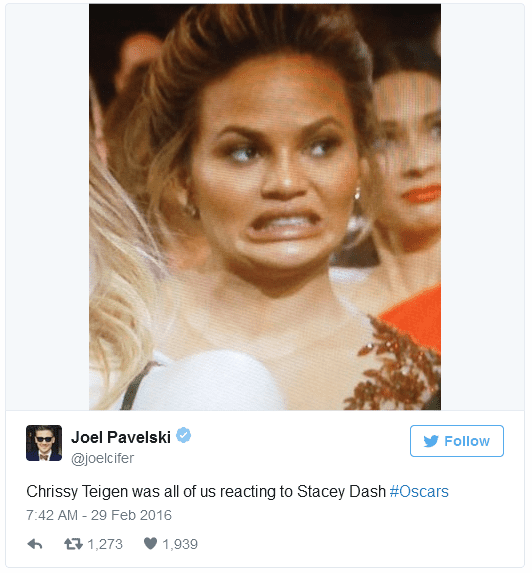 3. Lady Gaga's powerful performance of her Oscar-nominated song 'Til It Happens To You' with survivors of sexual assault onstage made the audience and the Twitterverse emotional. She was introduced by Joe Biden, who has been instrumental in promoting the White House's "It's On Us" campaign, aimed at ending sexual assault

4. When Mad Max: Fury Road went on a mini-spree and the memes, of course, followed: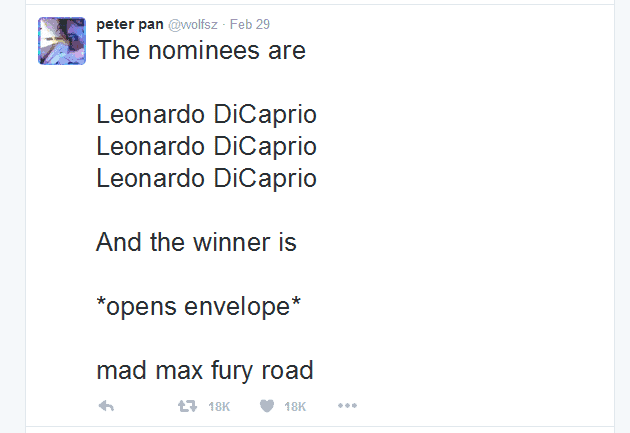 5. And of course, when  Leonardo DiCaprio finally won the Oscar for his sixth nomination. His win nearly broke the internet and definitely broke a Twitter record for the most-tweeted minute ever to take place during an Oscars telecast. There were more than 440,000 tweets per minute posted when he accepted his award, as opposed to 255,000 per minute when Ellen DeGeneres took the legendary Oscar selfie in 2014, which was the previous record holder. This tweet accurately captures our reaction:

One of the most important tweet was perhaps that of Bette Midler's before the ceremony even began and captured what many believe was wrong about the biggest Oscar moment of the night: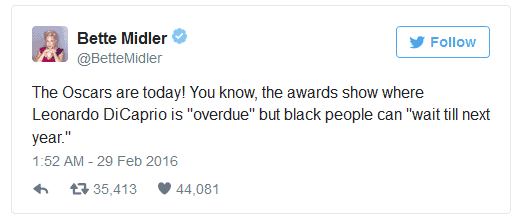 Oh well. The good, the bad and the controversial, all found place on Twitter during the Oscars telecast and it sure made for an interesting feed!
Featured Image Credits: oscars.org
Shubham Kaushik