<![CDATA[The world is not just black for those who cannot see. Instead it is full of umpteen shades of colours that we can't even imagine. To create awareness about the hardships and challenges faced by the visually impaired, NSS, SRCC in collaboration with Save the Quest organisation brought forward the Walk-A-Thon 2015 on the occasion of White Cane Safety day i.e. 15th October. The students had to register themselves into pairs of 2 and each pair was given a white cane and a black blindfold. The opening ceremony began at 9.30 in the morning. There was a performance by a visually impaired boy named Rajiv. The chief guest for the event was Mr. Mukesh Jain, the Secretary of ministry of social justice and empowerment. Mr. Jain addressed the gathering and then the walk began from SRCC at 11 am. [caption id="attachment_35663" align="alignnone" width="747"]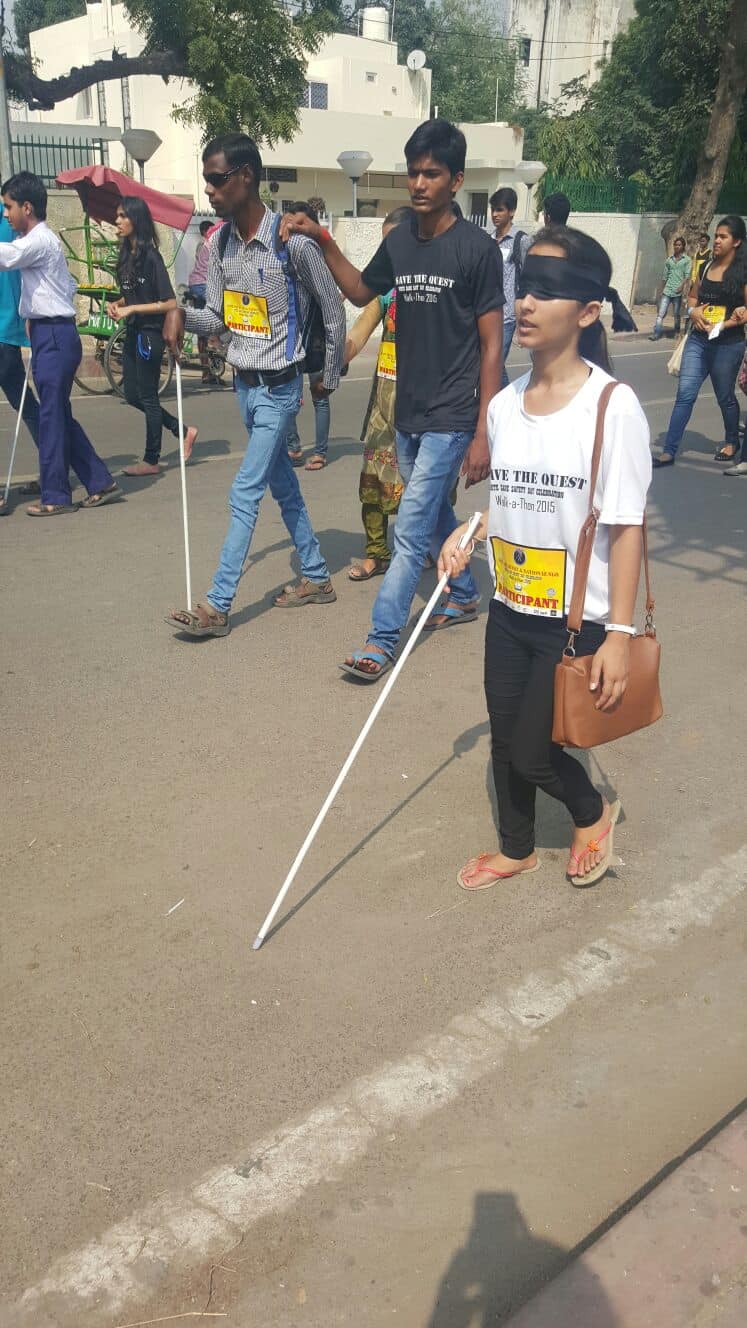 Image credits- Sumedha Gupta[/caption] The Walk-A-Thon took an entire round of the north campus. The event attracted a good footfall. Students from other colleges like DRC, DCAC, Hindu, and many more were also volunteers along with the SRCC students. In order to prep the students for the walk, a host of activities were also planned in the preceding week like blindfold relay race, shoot the target and follow the voice. The closing ceremony had a performance by Mr. Lalit, a student of SRCC. Furthermore the crowd was thrilled by the performance of the SaReGaMa finalist, Diwakar who sang a few Bollywood tracks. The main aim of the white cane walk was to create awareness and sensitize people towards the hardships and hurdles of visually impaired and to help them bind with a promise of trust and standing by them. REACH- Reaffirming Equity Access Capacity and Humanism is the Equal Opportunity Cell of Lady Shri Ram College. In its quest to break social barriers, integrate communities and build an inclusive society, REACH celebrated the World White Cane Day on 15th October 2015.
World White Cane day recognises the role the white cane has played in enhancing mobility and freedom of the visually impaired persons. White cane is an identifier of a blind person, a symbol of independence and a staff of empowerment. This marked the underlying theme of the poster campaign that depicted the multiple pathways that life now has to offer to the persons with disability and impairment.
It is a day that celebrates the achievements and triumphs of the persons with disability. REACH LSR took this opportunity to build a platform to understand, comprehend and sensitize the larger students community about disability. Three Movies – 'The Commute' which follows the arduous journey of a father confined to the wheelchair who tries to reach home using public transportation for his daughters birthday, 'Notes on Blindness' which captures John Hull's journey of grief, acceptance and renewal after losing his vision and lastly ' Disabled Athletes or Super humans' which celebrates the achievements of persons with physical disability in sports. Image Credits: Sumedha Gupta for SRCC Eeshani and Devanshi for LSR Tanya Agarwal for SRCC [email protected] Ishita Sharma for LSR [email protected] ]]>