Sangeeta Yadav, the newly elected president of The Students' Union of Daulat Ram College (DRC) is a 3rd year English (H) student, who is also an athlete and has been playing hockey since 8th standard. She has played at both state and national level and is a gold medalist.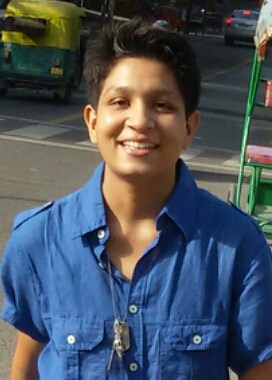 We get insights to what she aims to achieve as the president and what inspired her to contest for the post:
Q. Congratulations on winning the elections. What inspired you to contest in the first place?
A. I've been a sportsperson for a long time and when I used to come back from matches around 7 PM, the lack of quality of the basic necessities used to bother me. Access to clean drinking water, tidy washrooms, and better infrastructure of the college were some of my concerns. Thus, I resolved to bring about a change myself and stand for a position in the Union.
Q. Did you imagine yourself holding this position 2 years ago when you were just a fresher?
A. No. I'm from Haryana and compared to the colleges there, the colleges of Delhi University are much better. So, in my first year I was awe-struck with the whole aura of Delhi University. But as time passed and I started looking at other colleges, I realised that there are a lot of problems to be tackled. This is the reason I contended in my 2nd year as well for the post of the Vice President but lost. It didn't hamper my spirit, though, and I tried again this year.
Q. What is the biggest lesson you learnt during the campaigning process?
A. It was during the campaigning process that I realised the importance of this post and the impact it can create. I also realised how students are intelligent and well-aware. You can't go and make futile promises. They know what questions to ask the candidates to know how serious their vision is for the college. They desperately want a change to come which motivates me to work harder too.
Q. Are you happy with the complete panel that has been elected?
A. I was the only candidate who wasn't a part of a panel during the campaigning. But, I gradually got to know both of the panels that were competing. I can say with confidence that every contestant deserved to win equally. Everyone had worked hard so it is only natural that I am quite happy with the people who won. I'm also sure that even if they didn't win, at the time of need, everyone would come together to genuinely work for the college.
Q. What do you plan to do different this year than the earlier unions which have been in power?
A. I have realised that I am not greedy for power. It is my last year and I want a positive change to come from my side. So, the biggest difference in my approach will be that while focusing on major things such as fests and competitions, I won't lose sight of the most basic problems of a student. It can be the need to install more dustbins, have a cleaner campus and so on.
Q. What is the once advice you'd like to give the students who wish to hold such positions of leadership?
A. I'd advise them to participate. I don't mean only in elections but it may be in anything ranging from dance to sports. You get new experiences when you participate and it broadens your horizon. This gives you confidence to hold any position justly. I have always tried to be an all-rounder and would advise others to try and do the same.
Nishita Agarwal
[email protected]
Image Credits : Nishita Agarwal