One of the most sought after Enactus teams in the country, Enactus SSCBS is back with its awaited College Leaders Program (CLP).
Earning the spotlight by winning Enactus Nationals and representing India in the Enactus World Cup 2014 in Beijing, China, Enactus SSCBS works on various social entrepreneurial projects like Sanitation Solutions, Gramodhar and Project Akshar.
The Project Akshar Initiative would be the focus of this year's College Leader's program. Akshar's larger motive lies in making the disabled and underprivileged socially and emotionally independent, it seeks to empower them with book binding skills.
To help reach the goals of Akshar, CLP was initiated where students from various colleges in Delhi are chosen to be the representatives of Project Akshar within their college. The students chosen then form a team to undertake waste paper collection, promotion and selling of The Akshar Notebooks. To sum up, it is an opportunity for university students to gain valuable startup experience while creating and implementing action plans for their campuses.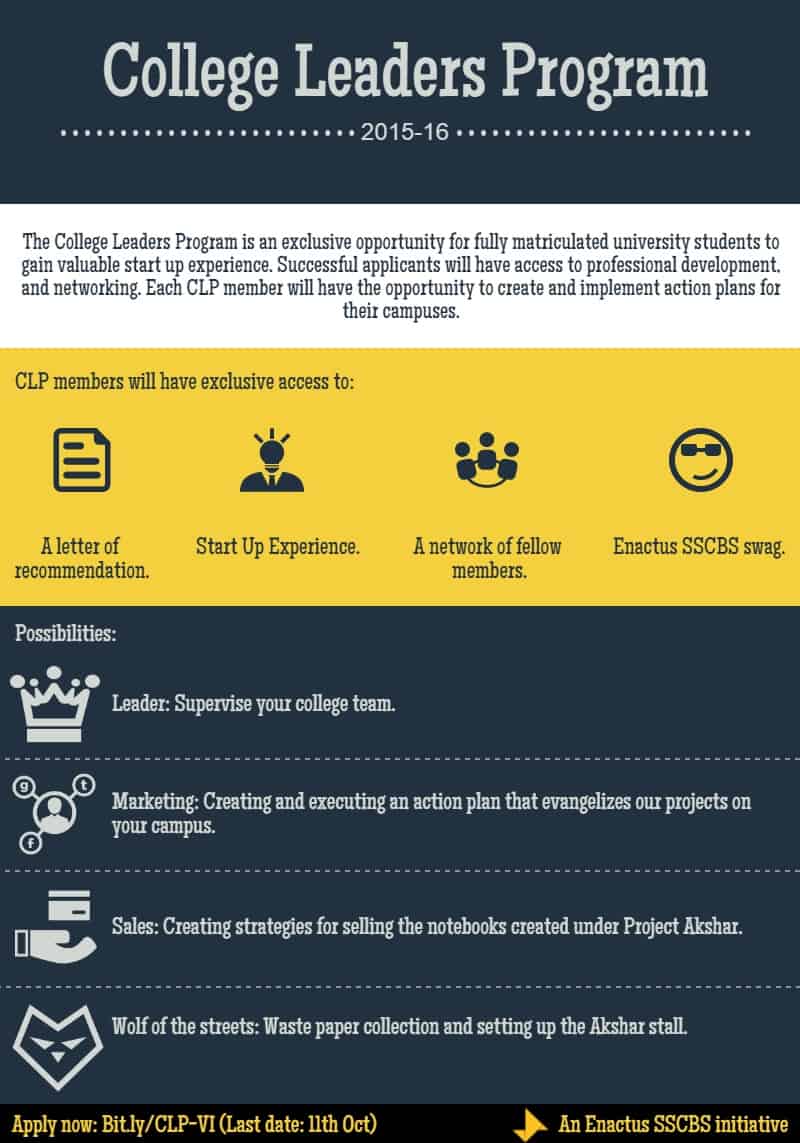 The CLP has expanded its horizon by also involving people in e waste collection. Selected people will also be involved in corporate partnerships and social media marketing.
This is the 6th phase of the CLP, which through its previous phases has worked successfully with more than 50 colleges each year.
For an overview of the tasks and responsibilities to be assigned visit: bit.ly/CLPDocument
For registration, apply here: bit.ly/CLP-VI
Last date to apply for College Leader's Programme is 11th October 2015
For Further information, contact Akash Mundeja (+91 9873569151) and Jai Nalwa (+91 8860507373)
Kartikeya Bhatotia