Saturday, the 25th of April, was just another weekend until the hands of the clock struck 11:40:01. An earthquake of magnitude 7.8 struck about 34km away from Lamjung district of Nepal and shook the earth, literally. The tremors of this quake affected many states of India as well and were felt as far as Delhi-NCR. Here are a few examples of how tech companies are doing their bit to provide relief to those affected by the quake:
1. Google's Person Finder Tool
An open source web application, this service is fairly old but has caught the eye of South Asians after the recent disaster. This quake has affected Google on a very personal level as they lost one of their executives on Mt. Everest. The first deployment of this service took place after the 2010 Haiti earthquake. It took the team about 72 hours to complete and launch the service. In subsequent disasters faced by the world, the service was live within a day and in many cases, within an hour after the calamity occurred. The service is based on 2011 September attacks survival registry and PPIF (People finder interchange format) data standards.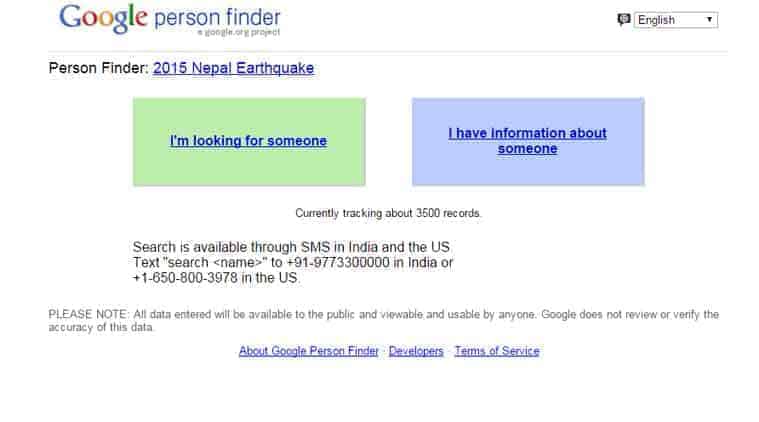 The interface is quite simple and easy to understand. There are two options: "I'm looking for someone" and "I have information about someone." The first option lets you to find information on the person you want to find. The last page with search results has options to mark records as duplicate and to create a record for missing person. Creating a new record will take you to fill a form where details about the missing person are to be filled. Second option lets you fill a form about someone if you have information about their whereabouts. If you've information on anyone or are looking for anyone please visit the link below: http://google.org/personfinder/2015-nepal-earthquake
2. Safety Check feature from Facebook
Facebook launched a very simple Safety Check service in which a notification was sent to the people living in the areas affected by earthquake.

Clicking on the notification directs you to a page where you can click on "mark safe" button in front of your friend's and family's name. This sends out the notification to that person and their friends that they are safe.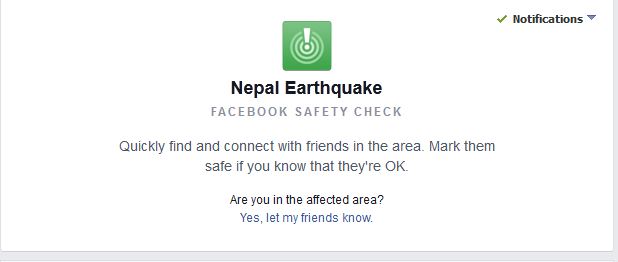 There is an option which lets you tell your friends that you're in the affected are clicking on it leads to you to page where you can mark yourself safe.
3. The Humanitarian OpenStreet Team (HOT) was activated by OpenStreetMap
This is a very useful service for figuring out and mapping the area affected in any disaster. Volunteers are provided with HOT kits are asked to survey the area on foot. Their movements are recorded in the GPS enabled kits. Receiving the data from the kits helps to build a very detailed map with the infrastructural information about the paths and roads in the area. This helps the rescue teams in choosing better paths and better strategy for their missions.
Kavach Chandra