A new addition to the comprehensive list of restaurants in Hudson Lane, Sparrows Cafe was opened in the mid of March 2015. Sparrows is an initiative for a natural cause and hence, the team would be putting up wooden houses for sparrows with the help of some student volunteers.
Ambiance: Decorated with cut-outs of the sparrow birds and squirrels sitting on the branches, this place provides a great ambiance to have food. Apart from colourful interiors, Sparrows also has western and Bollywood music playing in the background, for visitors to enjoy food.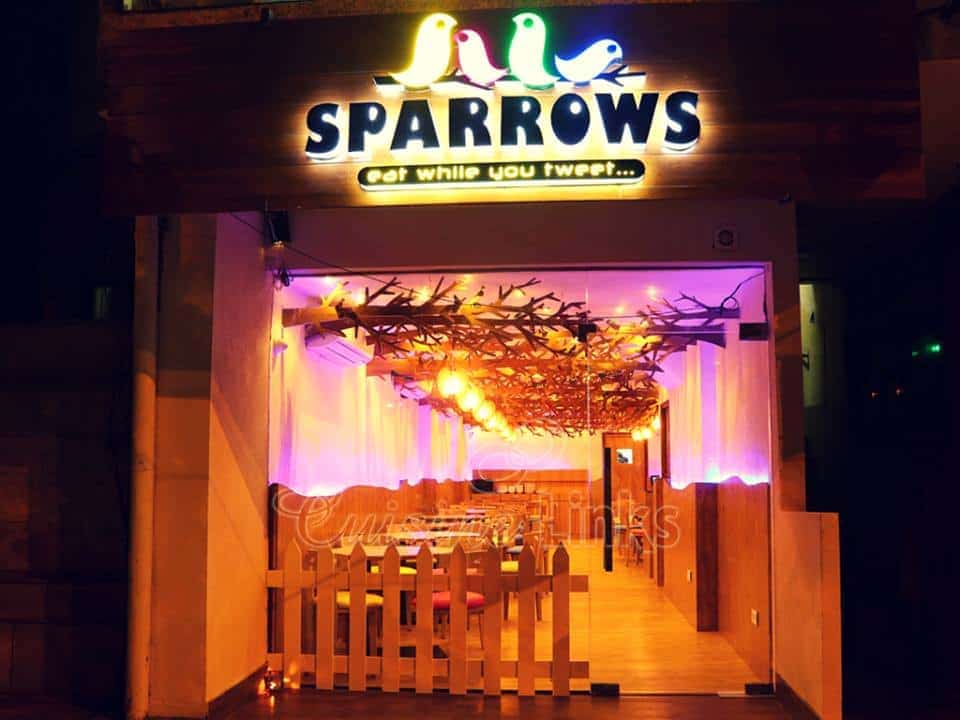 Menu and Food: For vegetarians, the menu is wide enough. Achari Cottage Cheese Shastik and Grilled Cottage Cheese Burger are some of the dishes that you may try. Although the drinks might disappoint you a bit, Munchino- the cold coffee and Basil Lemonade would complement your meal well.
The non-vegetarian dishes at Sparrows have a wide variety. There are appetizers like Chicken Wasabi with Wasabi Dip and though some might find a tinge of mustard oil in the taste, the chef confirmed that it wasn't used in the making. The Chicken Tikka Pizza might look less in quantity but it makes an overall satisfying dish. The chart toppers would be the Chicken BBQ Sandwich which is served as a heavy portion and is saucy in taste and the Chicken Pasta in white sauce which could easily suffice for two. The latter is served with garlic bread and tamarind chutney on the side which is definitely a change from the way your regular white sauce pasta is served.
Service: The staff here is polite and the order takes a very few patient moments to find its way to your table. Hygienic is also taken good care of at Sparrows by the cooking and serving staff.
Value for money: The quantity of food served is plentiful for you to return satisfied. For two people to dine in, the budget would be around Rs. 750 (including drinks).
Shaily Sharma
[email protected]
Isheeta Sharma
[email protected]
With inputs from Shaurya Sahai
Image Credits: Isheeta Sharma and Ishaan Gambhir