The fest season this year at Delhi University saw nukkad nataks attracting maximum viewers. With over 25 teams from both on-campus and off-campus colleges presenting their annual productions on societal topics, the street-play scenario won many hearts with the varied kinds of messages and emotions it projected. We have compiled a list few such nukkad nataks, which have influenced the audiences at large.
Disclaimer: The plays mentioned here are in no particular order and are based on author's personal opinion.

Nabbe Second ki Red Light – Dramanomics (College of Vocational Studies)
'Nabbe Second ki Red Light' questions the outlook of our society towards beggars. It focuses on the kind of hardships they face and how the people and it's government fail to acknowledge their existence. The play enlightens the audience by suggesting some simple and doable ways in which we can help these unfortunate few come out of the unremitting cycle of begging.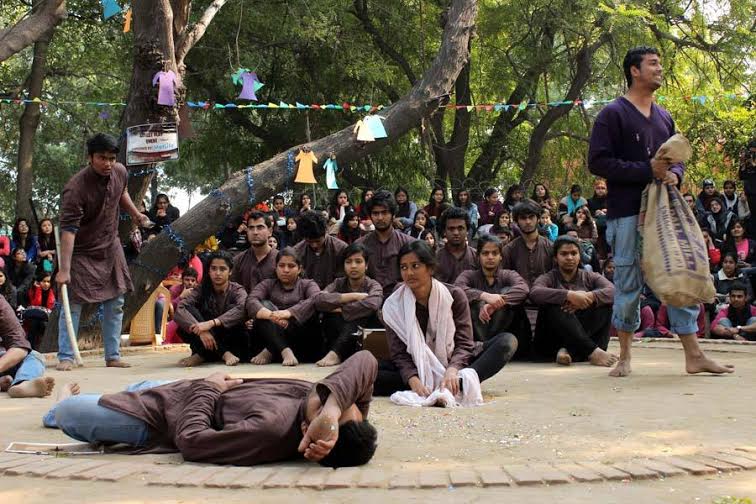 ---
Kar-Maa – Shades (Keshav Mahavidyalaya)
The play revolves around the situation of mothers. It projects the usual topic of disrespect towards maa in a different manner, which leaves the viewers in tears post the play. It portrays scenes that show how children reciprocate the unconditional giving by mothers.
'Uska dil toh beshumaar pyaar lautata hai
Par kya maa ka karma kabhi laut kar aata hai'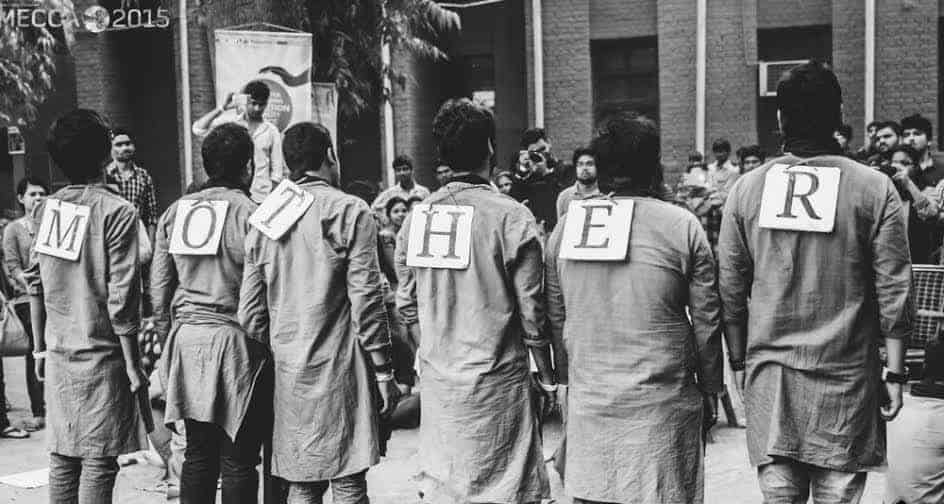 ---
Pyaare Lal Toy Shop – Et cetera (Guru Teg Bahadur Institute of Technology)
The play, very subtly points out how political ignorance and shallowness is incorporated in our generation and also throws light on this very severe phenomenon, the construction of naïveté and political ramifications. The play takes a metaphor of a toy shop where every child who underwent the training of ignorance ends up being like a mere meaningless toy with no sense of humanity and judgement.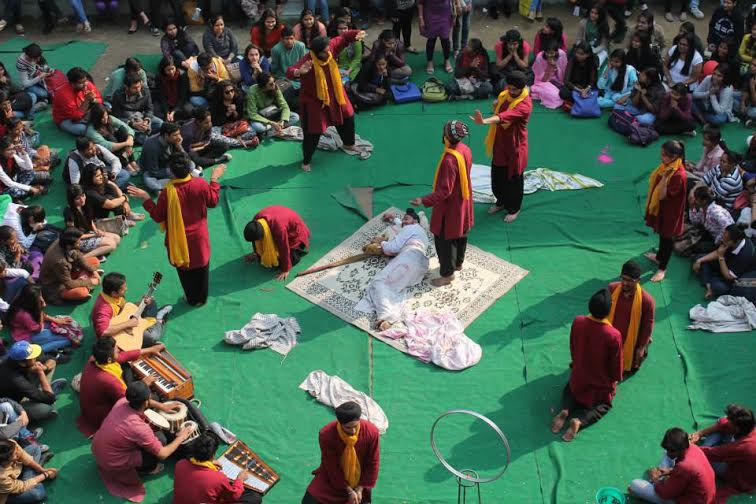 ---
Mannmarziyaan – Abhivyakti (IP College for Women)
The basic theme of the play is economic materialism and irrational buying. It shows how we have started filling up emotional voids with plastic things, and how our craving never seems to end. It gives out the message to the audience that there is a significant pressure to 'consume' because we end up feeling that our material possessions shape our identity.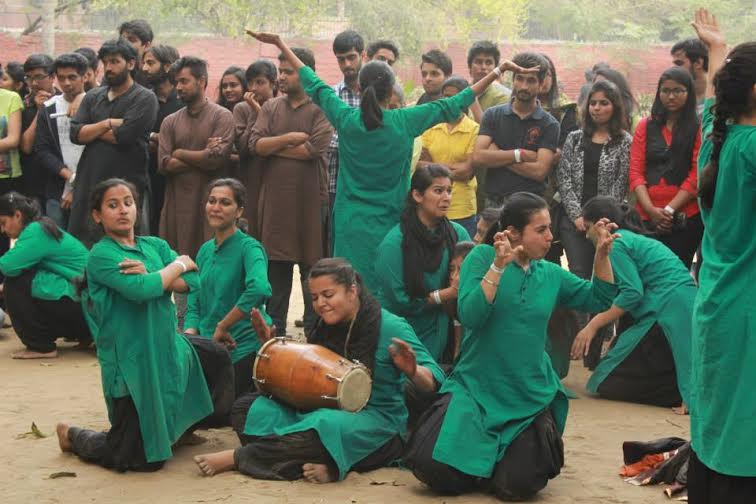 ---
Chacha Chaudhary Aur Dina Nath Ki Waapsi – Kshitij (Gargi College)
The play highlights educational terrorism, censorship of academic freedom and cultural hegemony. Within existing political status quo, using "Chacha Chaudhary", the character of legendary cartoonist Pran, interspersed with music, the production examines the nature of education as 'political agenda' on one hand and the hidden agenda of the hindutva politics on the other.
---
Welcome to the- Machine – Ankur (Sri Guru Tegh Bahadur Khalsa College)
The play principally articulates manipulation of religion for violent purposes to polarise and gain political power. It investigates how the religious forces assert their dominance over 'others' by means of culture , education and institutional structures. The blatant and direct approach of the play challenges the present political context and fundamentalism.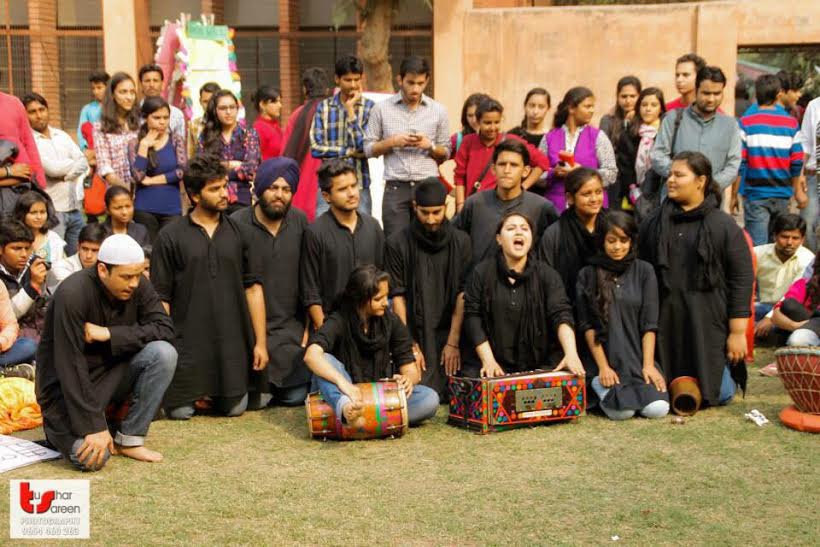 ---
Tamaasha – Hansraj Dramatics Society (Hans Raj College)
The play aims to show the reality of how people get influenced everyday unwittingly. Covering a range of examples, the play portrays situations that every strata of the society can relate to. Tamaasha highlights that there is no escape from this conundrum of life since influence is an intrinsic property of the way human society works. The audience is forced to question themselves on whether they think for themselves and make informed decisions or are swayed by popular opinion.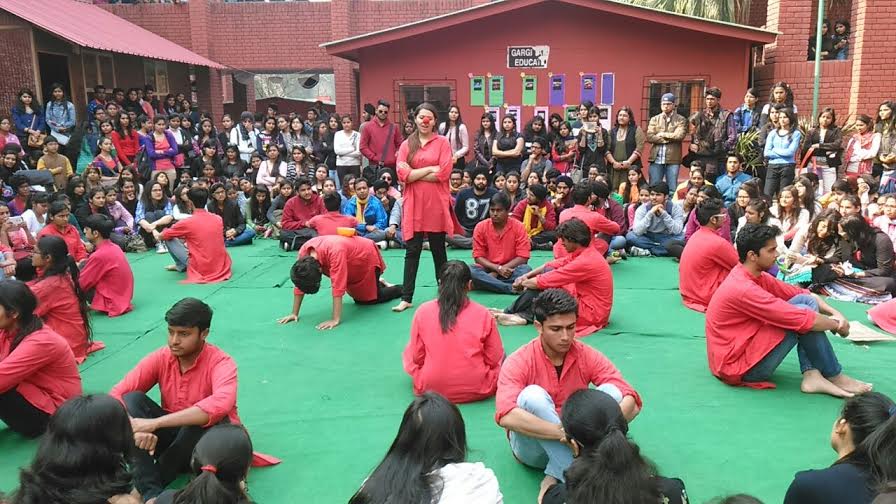 ---
Hum Ghum Ho Gaye – Manchtantra (Sri Guru Gobind Singh College of Commerce)
The play 'Hum Ghum Ho Gaye' showcases the plight of nomadic and de-notified tribes, the communities that have been subjugated and exploited since the British rule. The play focuses on how people who are born in these communities are titled as 'born criminals' as per law. It also sheds light upon their present situation, which is even worse than dalits; abundant of atrocity cases, no education, employment opportunities and complete violation of their human rights.
Feature Image Credits: Kashish Madan
Individual photographs have been provided by the respective teams.
Iresh Gupta
[email protected]