The NSO of the Lady Shri Ram College for Women organised the Bharat Ram Sports Meet from 26th-28th February in the college grounds. The meet saw heavy participation in the fields of athletics, archery, badminton, basketball, chess, judo, lawn tennis, table tennis, shooting and volleyball. Various colleges from across Delhi/NCR region and some outstation colleges were part of this event.
The three days long bharat Ram Sports Meet was well organised with a number of volunteers who ensured that everything went with the flow. The closing ceremony ended with the prize distribution. Surprisingly, around 70 teams registered for the Basketball tournament, which is the highest that the college has seen so far. Other games also saw tough competition.
Ms.  Meenakshi Pahuja, the Faculty Sports Incharge of the college said, "It's beautiful to see the amount of response that we've got.  Seeing young students so enthusiastic about sports is a good way to promote sports." Surbhi, a participant in the Lawn Tennis competition said, "It's great to have a platform where you can showcase your ability. It's an encouraging to be recognised."
The Winners Tally for various events is as follows:
BADMINTON
Women singles
Name                                College                                           Position
Rujuta Bhagwat                   LSR                                                   I
Vaidika Kota                         LSR                                                 II
ViswajaKatragadda            LSR                                                III
Mens Singles
Tarun Madan                          ARSD College                                   I
PiyushPareek                           Sri Aurobindo College                 II
Piyush Singh                             Dyal Singh  College                    III
BASKETBALL:
Girls (Finals):
First: LSR College
Second: Ramjas College
Third: Maitreyi College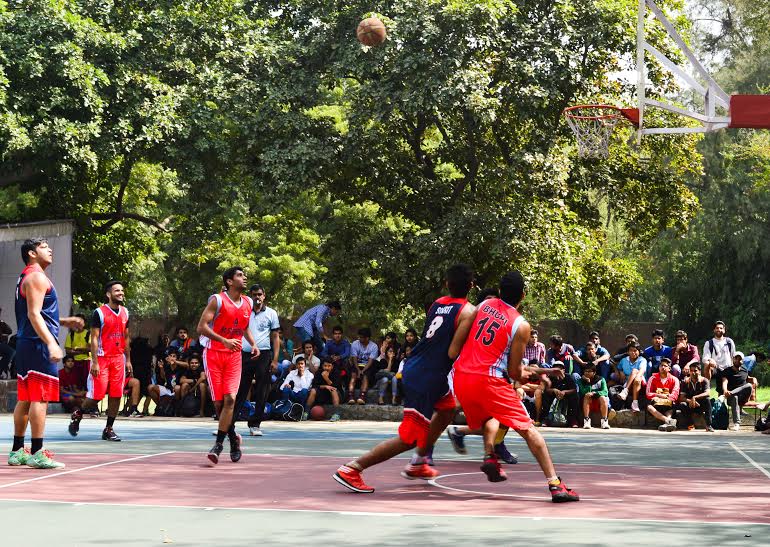 Boys (Finals):
First: Kirori Mal College
Second: Sri Venkateswara College
Third: Jamia Islamia University
CHESS
Team event girls:
First:  LSR College
Second: Laxmi Bai College
Third: Gargi College
Chess Team Boys:
First :Deshbandhu College
Second : PGDAV College
Third: Sri Venkateswara College
Image credits: Mugdha for DU Beat.