The last day of Tempest saw the finals of 'Halla Bol', the street-play competition organised by 'Anukriti', the Hindi Dramatics Society of Miranda House. Nine shortlisted teams performed street-plays all through the morning in the lawns of the college. The judge for the event was Vipul Pachoria, a theatre personality and a renowned judge in the DU theatre circuit.
The energetic calls and chants, coupled with the use of musical instruments by the teams attracted a considerable audience to the event. The performances bravely addressed a number of social and cultural issues in the society, not shying away from sensative and controversial subjects. The common issues taken up were of religious fanaticism, the situation of several backward communities in the country and the imposition of Hindutva ideology which has emerged through several recent incidents.
Tarang Jain, the president of Anukriti  was pleased with the productions and was enthusiastic about the progression of theatre as a form of addressing important issues. "It is great to notice the change and progress in the types of productions from year to year. Theatre has become a lot braver and a lot more creative", she said.
Manchatantra from SGGS won the first prize with their play "Hum ghum ho gaye". Theatre societies of Gargi College and IP College for Women tied for the second spot. The award for best actor was jointly bagged by Amit Tiwari from Shivaji College and Vidushi Verma from Hindu College.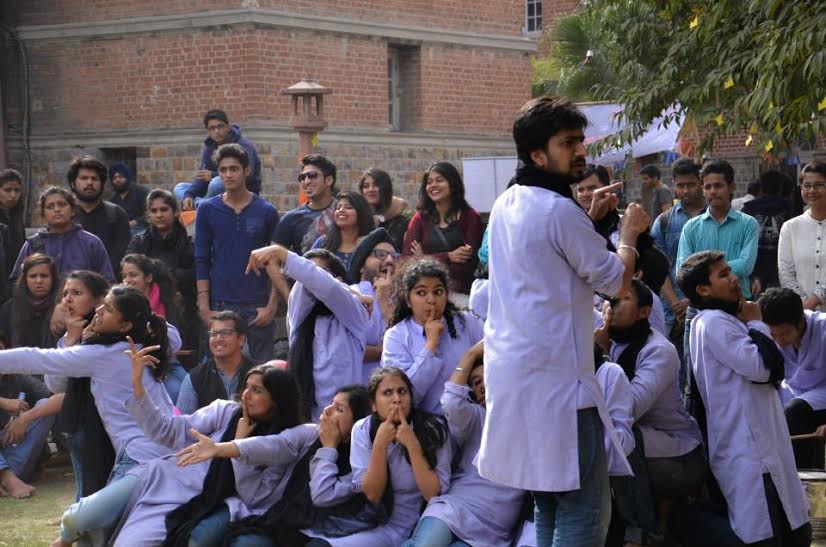 'Burlesque', the western group dance competition at Tempest '15 hit off with crazy cheering from the audience. As all the participants ended their performances, the judge, Mr. Tarun Sharma was presented with a tough decision to crown the winners. The competition saw participation from colleges such as JMC, Hans Raj College and Maitreyi College. 'Verve' from Sri Venkateswara College stood first along with 'Funk In Motion' from Maharaja Agrasen College as second.
Despite a few technical glitches initially, the coordinators managed the event well and the auditorium, by the end, was swarming with a huge crowd which brought the event to a successful end.
Sona Mohapatra's performance on Day 3 of Tempest '15 was all about 'celebrating all the female fire flies out there', as said by the artist and the organisers. This celebration instantly managed to connect with the audience. Songs such as 'Jugni' , 'Bekauf Azaad Hai' were sung to mark a fearless future, and freedom for our generation. Sona, then creating the passion in the hearts of the audience had them singing along 'Chiraiya'. Then moving on to the theme of love, she had the crowd swaying to 'Tum Bin Mora Jia Lage Na'.
Coming towards the end, the performance was marked by colorful fireworks which pumped up the atmosphere along the powerful track, 'Mujhpe Daav Laga' and 'Ghoor Ghoor Ke'. She sung the most awaited 'Ambarsariya' while ending her performance.
Shubham Kaushik
[email protected]
Tarushi Varma
[email protected]
Images by Tejaswa Gupta and Greta Khawbung