The months of January to March are synonymous with the fest season throughout all the colleges in Delhi University. Every college student who has been through the season once knows the crazy atmosphere that sets in.  Every college ensures their fest comes up to be the best and all this competitiveness brings out the best always. Here are the seven things you can look forward to:
1. Star Nights and Celebrity Visits:
Crazy. Fun. Melodious. Yes these three words define the star night. Colleges make sure that you have an amazing time as they go bonkers to get the best sponsorship so that the best singer/ performer graces their fest. And the stars are quite happy to oblige as they get all the attention. So mark your calendar as per the fest dates.
Click here to see who all visited DU colleges in the last fest season.
Not only do the celebrities come to colleges for star night performances, but for movie promotions too. Be it Alia Bhatt for Highway at Hindu, Ayushmann Khurrana and Sonam Kapoor for Bewakoofiyaan at SRCC, Ranvir Singh, Priyanka Chopra and Arjun Kapoor for Gunday at Kirori Mal College, everyone's been here, and going by the trends, this year might be no different.
2. Formal and Informal Events
Ad mad, face painting, Oreo dipping, fashion shows, case studies and mock stock events. The craziest ideas the organizers can come up with are presented to everyone as these events.  The best part; any and everyone can participate.
3. Guest Lecturers and Interactive Sessions
Delhi University fests generally rope in big names for guest lectures, inaugurations of fests or general visits in both college as well as departmental fests. Previously, numerous talented speakers and visionaries like Dr. Kiran Bedi, Arun Jaitley, Narendra Modi and his holiness Dalai Lama have visited numerous Delhi University colleges.
4. Performances by the talented folks in DU
The societies of Delhi University colleges are a big rage, be it dramatics of fashion or dance. All societies get to showcase their talent as they perform tirelessly back to back from one college to another and go around entertaining everyone.
5. Food stalls with a variety of options
Yes, it's heavenly. The best of stalls with the best variety is available at reasonable prices for the students to enjoy. One stall gives you momos so the other gives you tandoori chicken. Take your pick and have the best time with your friends.
6. Participate in organising a fest!
Every good fest is successful because of the grandeur and the footfall. But there is one more thing which makes it great–the OC (organising committee). Be a part of it and learn to be street smart. Resolve last minute crises. Tackle your sponsors and be a reason for a thousand smiles.
7.  Come meet the DU Beat team!
You've gone through the content we've been churning out year around, staring at your monitor screens. Now is the time we come out and interact with each other. Find our stall and come to us, go through our ancient archives. Be it a compliment, criticism or query, shoot it out. Register with us in case you want to be a part of the team. See you there!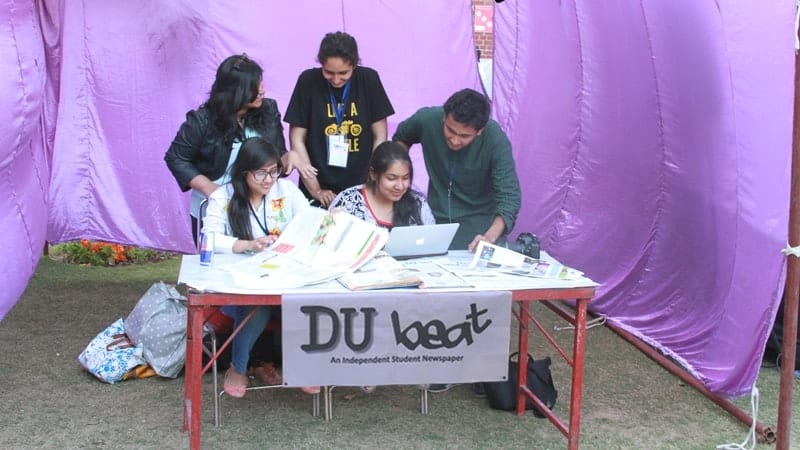 Written by: Meghna Mitra for DU Beat.
Featured Image Credits: Chirag Sharma for DU Beat.