It is often said that being a vegetarian is a 'missed stake'. One spends all his life fighting the non-vegetarian lot and bearing the consequences of being a 'ghaas-phoos' eater.
The decision to live a vegetarian lifestyle is a noble one but the world can be an extremely cruel place for a vegetarian. While your non-vegetarian group of friends can grab a bite at swanky places like KFC or Burger King, your best bet is probably the Indian KFC-Karnataka Food Centre (idli or dosa, anyone?)
However, if you study at Delhi University, there is still hope for you. Both North and South Campus areas offer some amazing eateries that present lip-smacking delicacies (at pocket friendly rates, of course) for the small, yet swelling vegetarian community.
North Campus Veg Fiesta
1. Chache Di Hatti, Kamla Nagar
Chache Di Hatti serves the best plate of Chole Bhature in the over-populated North Campus. Seasons come and go, but the crowd outside Hatti never dwindles. The menu is completely vegetarian, though limited. They offer only aloo wale bhatoore, sade bhatoore, kulche and chhole accompanied with rich flavours. It's a must visit if you enjoy Punjabi street food and don't mind waiting in long queues. There is also a lack of seating space.
2. Tom Uncle's Maggie Point
Don't let the name fool you. Tom Uncle really knows how to take something as basic (and unassuming) as maggie and turn it into a plate that is nothing short of sheer genius recipe. One of its highlights is the extensive vegetarian menu. 90% of his menu is vegetarian, with the exception of certain egg based items. Other than maggie, you can also get pasta, chaat and beverages. Their Oregano Maggie and All in One Maggie are big hits with the students.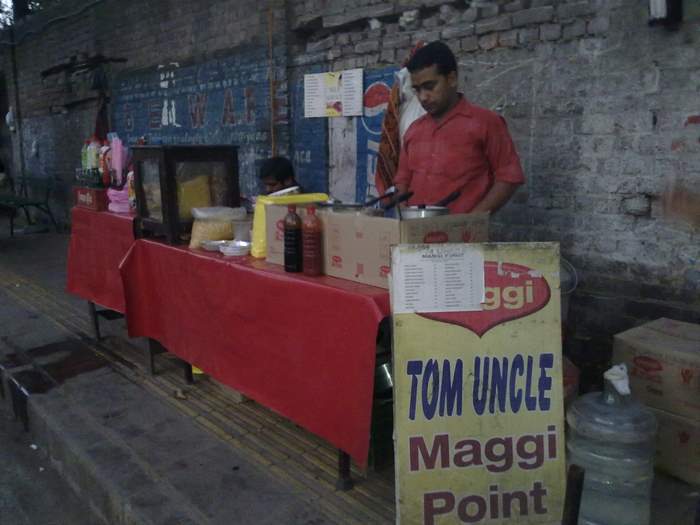 3. Apni Rasoi, GTB Nagar
In the mood for some 'ghar ka khaana'? Apni Rasoi is the answer to your earnest prayers. Though they offer Chinese, it is believed that their North Indian variants are the best on Campus! Popular choices include kadhai paneer, dal makhni and lachha parantha. If you have a hard time deciding across dishes, you can play it safe and opt for the vegetarian thali. It serves 100% vegetarian food. They even deliver and according to campus lore, they are every hostellers' go-to restaurant.
South Campus Veggie Extravaganza
1. FrenZone, Satya Niketan
A satisfied customer is essential for business survival. At FrenZone, you can always expect value for money services. The waiting period here is quite less and the waiters are well-trained and intuitive. This eatery is ideal for vegetarians because they can choose from a wide variety of items. The menu offers equal number of vegetarian and non-vegetarian dishes. In fact, the veg 'sandwiches &burgers' are more in number than the non-veg ones. The vegetarian tandoori food is definitely the highlight.
2. Idli King, Satya Niketan
South Indian food is every vegetarian's refuge because all dishes of this cuisine are purely vegetarian. Idli King does an extremely good job of offering some of the classic South Indian delicacies, keeping the southern flavours intact. If you enjoy authentic South Indian snacks like rice idlis, vada and upma or dosas and uttapams, you will surely appreciate this restaurant. They also whip up some amazing tomato and coconut chutney.
3. Chowringhee, Satya Niketan
Chinese food is what Chowringhee specializes in. Chowringhee has ample veggie options available, along with the standard non-vegetarian dishes. For instance, they have three varieties of equally popular 'thukpas' – vegetarian, egg and chicken thukpa.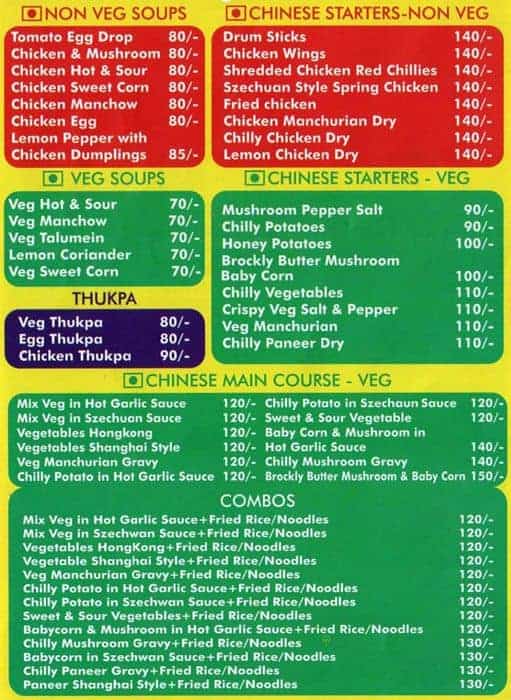 Many people tend to overlook Chowringhee's tandoori momos. Chowringhee has a great variety of vegetarian rolls on offer too!
DU Vegetarians, follow this list and fraternize with the wonderful food that our campus has to offer! Bon appetite!
Feature Image : Chache Di Hatti, North Campus
Image Source: Projects Jugaad
Kriti Sharma
[email protected]