"Love him or hate him, you just can't ignore him…"  Think you've seen enough of Shah Rukh Khan already? Well, think again!  After theatre, television and cinema,  SRK now plans to add another feather to his cap – a novel.  Nope! He's not gonna write one, he's going act in one!
Now  it's no secret that King Khan has a strong inclination towards the technological arts, and this is manifested regularly in his work – he owns a VFX studio, produced the National Award winning movie Ra.One & his company has created the visual effects for movies like Krrish 3. His latest venture would once again make full use of modern technology.
For the first time in India, a Bollywood actor would be featuring in a graphic novel. This mode of entertainment is yet untapped worldwide,  as most of the successful graphic novels are either video game titles or spin-offs of big-budget movies. SRK will be seen in the graphic adaptation of Ramesh Tamilmani's –Atharva – The Origin.  The first look of the same was released earlier this week.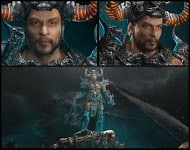 The trailer of Atharva shows a french-bearded Shah Rukh – heavily armed & armoured, in a mythical world with a dragon in the background. Designed by Virzu Studios, the VFX are quite appealing for a graphic novel (way better than Kochadaiyaan!)  but don't compare them with a Playstation video game (although, it looks very much like an action RPG)! It is also the first time we'll see King Khan in an animated avatar. His last rendezvous with animation was when he voiced-over for Incredibles (2004).
Amidst monotony and humdrumness, such attempts are rare. So do take a look!