A Delhi University alumnus himself,  Manak Matiyani is a queer feminist activist working as a trainer and consultant on issues of gender and sexuality with a focus on youth development. He has been part of the Delhi Queer Pride Committee since 2012. Manak led the Must Bol campaign and has conducted many training sessions with young people on campus with various colleges in Delhi University to address issues of gender, sexuality and violence towards prevention or violence and acceptance of diversity. In a recent interview with DU Beat, he spoke about the effort and planning that goes behind the annual Pride Parade, the participation from the crowd this year and why the Parade always seems to clash with Delhi University exams!
We just had, possibly, the biggest Pride ever in South Asia, that too being the first one after the Supreme Court judgement. What do you feel about it?
I'm a bit cautious about all these "biggest", "best", "first" kind of tags to anything. That said, the Pride was great fun indeed and a bigger crowd than the last few years. I am horrible with estimating numbers and different reports have pegged it from 700-800 to a few thousand, so I'm not really sure.
I think it is definitely a moment for everyone – the courts, the government, media, and all citizens to sit up and take notice. We were worried whether the climate of fear and criminalisation would reduce the numbers. It seems to have had the opposite effect. People want to come out and be counted, show their presence and make it matter.
And there have been various pride marches recently, Bangalore, Ahmedabad, Pune, and the one in Bombay earlier in the year and soon again in January. There was a march by transwomen in Bangladesh recently as well. All of these are significant and show that people are demanding their rights and dignity and that the government and the courts have to be accountable to people in a democracy.
What were your favourite moments from the Pride? 
There were so many! Each placard, each slogan and each thumka was my favourite! But let me recount the feeling that symbolises Queer Pride 2014 for me.
As one of the organisers, I had this initial panic about whether there will be enough people, whether things will go well and what if nobody turns up! I was walking towards Barakhamba Road and it was just about 3'o clock. Usually nobody turns up before 3:30 or so but this year, I saw a huge crowd waiting at Barakhamba Road at 3. It was a really big and diverse crowd and the march had not even begun! A contingent of students came in a bus on behalf of their school. People came with friends and families. It was that initial moment of looking at that massive crowd and feeling that whatever the court of the government does now, as a society we have moved ahead on sexuality, people's (queer and others) rights and freedom. That whatever struggle it might take, there is indeed no going back. That defined the spirit of pride and all the people who were part of it for me.
Sticking with the question of Pride, why is Pride necessary for us in the present scenario?
We had a whole campaign going on in response to that question! You should check out the tumblr page. Many people ask why Pride is important and whether being LGBTQ is more a matter of pride than being straight. I think that line missed the point and ignores the history of people being persecuted and having to hide their identity because they are LGBTQ. These identities have been made a matter of shame and that is why Pride is important.
In the current context that has not changed, the Supreme Court has re-criminalised sexuality and taken away the dignity and rights of people. Last December's judgment has in a way legitimized homophobic violence and discrimination. That is why we need Pride more than ever. For people to express their solidarity across identities and stand for the rights of all people who have been marginalized and face violence and fear because of who they are.
Since the judgement and the following Global Day of Rage on the 15th of December 2013, we have seen a strengthening of support and solidarity among diverse rights movements in India and across the world who came to support the queer movement. Pride then, is also relevant as a space that re-affirms those solidarities and brings these intersections into the queer movements and voices.
Who comes up with the ideas and where does the funding come from? Will the Pride in Delhi ever tie up with corporate companies like so many Prides in the west have? Yes, we are a curious lot here.
I was not associated with the initial stages of the Pride march though I have attended all the marches held in Delhi. I think the idea of a Pride march definitely came from the west, just like the homophobia and the law that make it necessary. However, one can definitely not ignore that we have had a history of struggles and people's movements of public action, protest and assertion of rights. So it's not like we heard about the Pride march somewhere in the west and suddenly got inspired. In that, the Pride, its ethos and its message are definitely our very own.
The Delhi Queer Pride is completely community funded and done with money donated by individuals. The Pride committee is not a registered group, we are a group of volunteers who do this just because we feel connected to this issue and feel that this is a good way to reach out to a larger public, educate, speak out and express our demands from the state. People come to Pride as citizens and not under the aegis of any organization. So we don't partner with any organisation, corporate or non-corporate. This is also a way to keep the space equitable and open for everyone so that large organisations do not make the smaller ones invisible. Organisational funding has its own complexity and the danger of taking away the autonomy of a volunteer led community space. Organisations can continue to support Pride and Queer rights in their own arenas by creating organisational policies. We also saw many brands taking out advertisements supporting Queer rights post the Supreme Court Judgment. The feminist movements and many feminist and sexuality rights organisations have supported the queer rights movements and all that has created a climate in which Pride can be celebrated and organised without fear. We must acknowledge that support while retaining the community led and co-created nature of the Pride organizing space in Delhi.
When do you actually start to plan for the Pride? What all goes into the planning?
The Delhi Queer Pride Committee (DQP) is a volunteer group, which is active mostly for the Pride and Pride related events in Delhi. We have been organizing Pride since 2008 and the celebration to mark the Delhi High Court judgment on 2nd July since 2010. I have been part of the DQP since 2012 and speak from that experience.
The DQP gets active a few, typically two or three, months before the Pride to begin the planning. The meetings are held in public places and announced online and through community networks. Anyone can join the meeting and if they wish, they can be signed on to the e-list. The discussions happen mostly on the e-list but the meetings are a regular weekly feature in the run up to Pride, so those who are not connected can come to the meetings on a weekly basis.
So, the organising is a rather mundane affair with weekly meetings, committees and sub-committees, planning, frustrations, celebrations, fights and the works. Like any other diverse group trying to pull of a big event together. What makes it more fun is that all of us feel very passionate about doing this and so a meeting is never just a meeting. It is also a space for people to meet, hang out, socialize and find a supportive community space. People meet others who too grew up feeling isolated and alone and this organising and planning has also been a positive space for many people to come out and meet similar people who understand and accept them.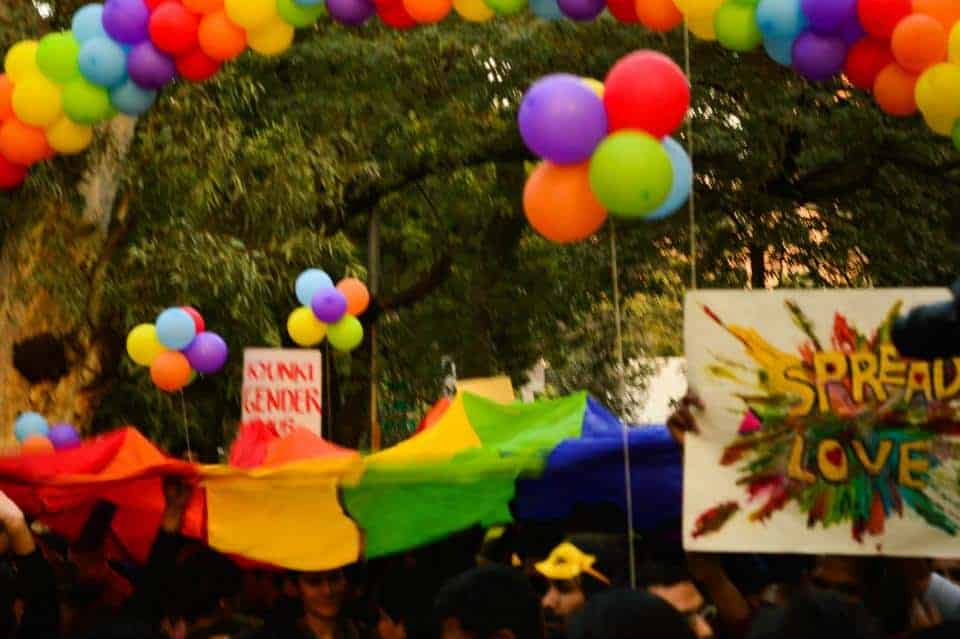 Finally, the question that DU students would finally like to know the answer to, why does the Pride always take place right in the middle of the DU examinations? Wouldn't you like us to show our thumkas there?
Well, I think when the "Last Sunday of November" decision got taken, DU had still not switched to the semester mode. So actually, the exams eventually came right in the middle of Pride.
I understand that as a student in the middle of exams it is not easy to think of taking out even half a day to go to a march. However, it is one of those dates, which is really well known now, so students can prepare in advance. We do lose out on active participation from DU students in the planning but then with so many different universities and colleges now, there always seem to be some or the other exams on!
I do think we should have this date discussion one more time, but I also think it would be great to do something just for the university organised by the students. The Delhi Queer Pride committee would be more than happy to help and maybe we can have a DU pride in February when campus starts. How is that for an idea?
 Image courtesy: Feminism in India's Facebook page and Mugdha for DU Beat